When it comes to the holidays, Wayne Standerwick does not shy away from a little chaos.
This notable attribute is likely what enables him each year to haul a Christmas tree to San Francisco's Civic Center, where he unleashes hordes of homemade ornament-toting children on the conifer. Amid the mayhem of shrieking children frenetically hanging colored styrofoam ornaments, Standerwick stands watching with a gleeful expression.
"Very good," Standerwick encouraged with his Brooklyn-tinged accent, "you guys are doing great."
This is the 20th year Standerwick has enlisted kids to decorate a holiday tree — an effort he describes as a holiday lesson in sharing and giving. He even calls it the Children's Community Tree.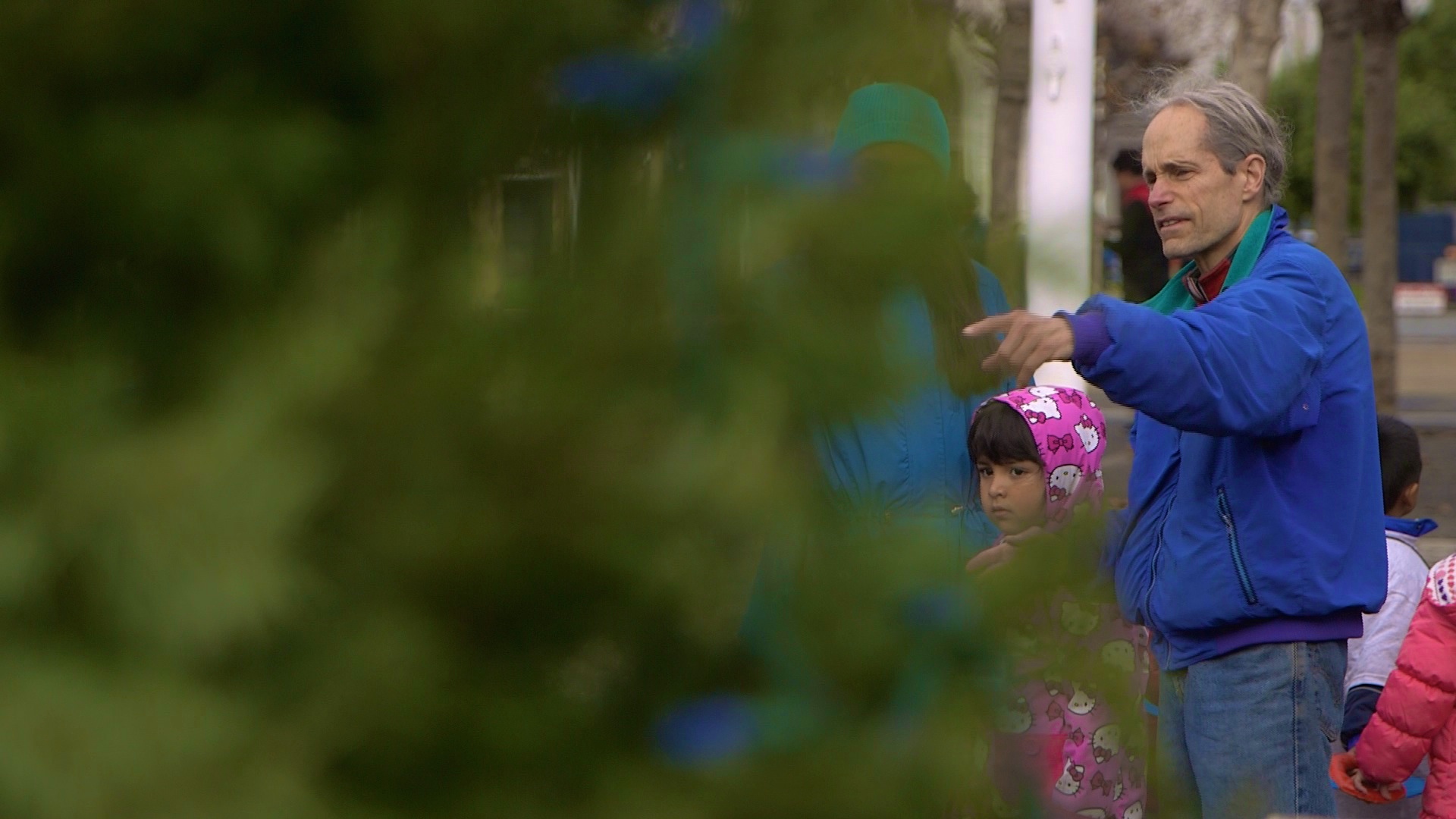 To that end, Standerwick puts up a Christmas tree in Civic Center and invites local school kids to come decorate it — as a gift to the community. In a plaza often filled with the homeless, it's become a small token of the holidays.
U.S. & World
News from around the country and around the globe
"This is where the majority of the homeless congregate and they deserve to see a tree too," said Thomas Kincaid, who has lived in the streets for a decade. "On the streets it's hard, and even if you have a memory that makes you happy for five minutes, that makes someone's day."
Standerwick's tree tradition began one December in the yard of his Mission District apartment.
"There was a tree in front of my house," Standerwick recalled, "and I was like, 'I want kids to decorate the tree.'"
So Standerwick made some ornaments and called a local Head Start program, which sent out some kids. The ritual took hold and happened again and again, year after year.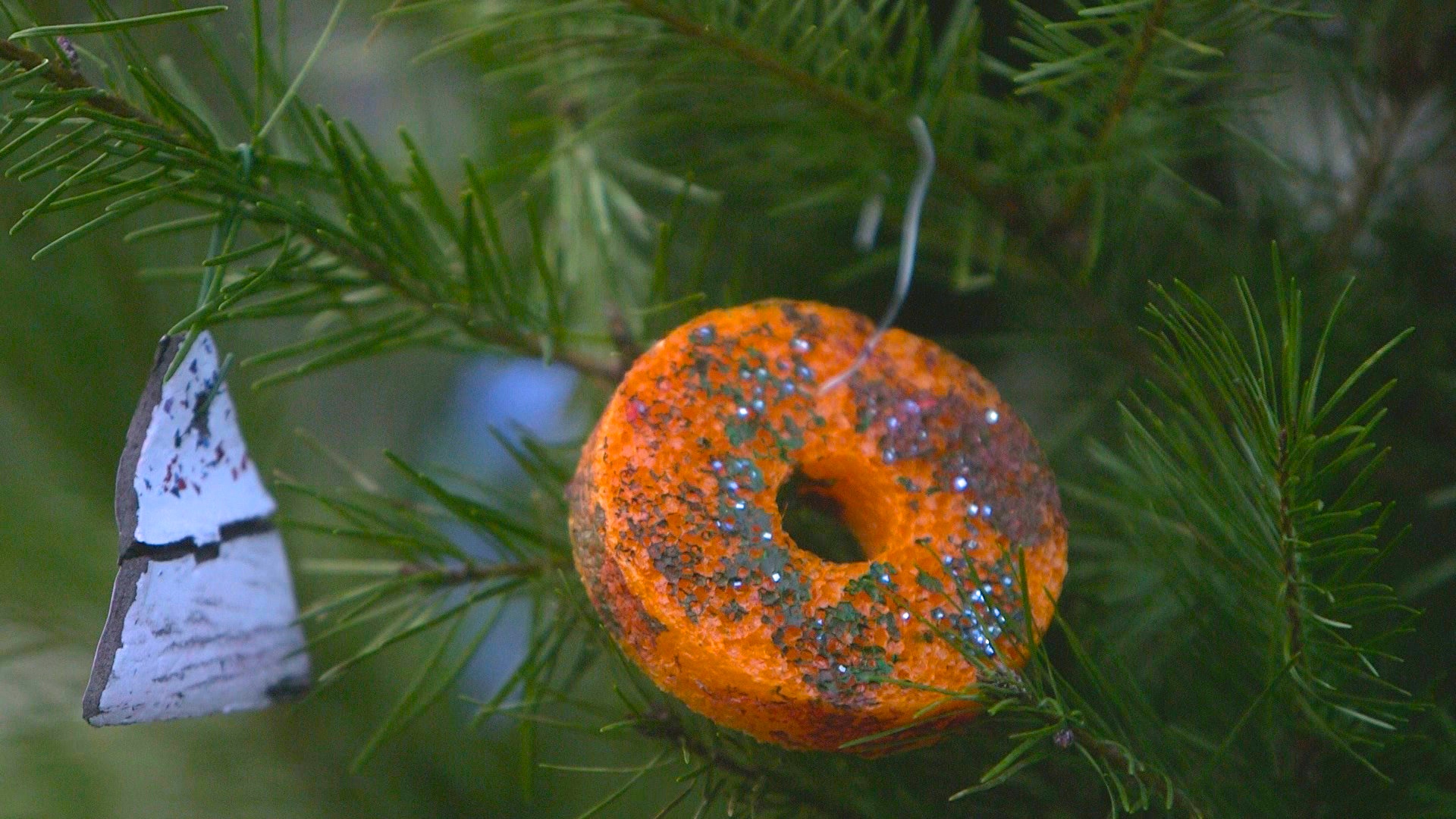 But like many ideas which eventually outgrow their roots, Standerwick outgrew his front yard. So he hatched the idea to install a small annual holiday tree in the plaza across from San Francisco City Hall. He got a permit and invited schools to send children to decorate the tree. As part of the tradition, each kid gets a donated book — and a kiwi.
"I always have been giving them books to promote reading and kiwis to promote healthier eating habits," Standerwick said.
The first year he set up the tree in Civic Center, Standerwick got a lesson in the ways of the Grinch. Someone stole the tree and all the ornaments, which had been crafted by local schoolgoers.
"That taught me that no matter what happens you still have to stay positive," Standerwick said, pointing out a large chain that now secures the tree to a playground fence.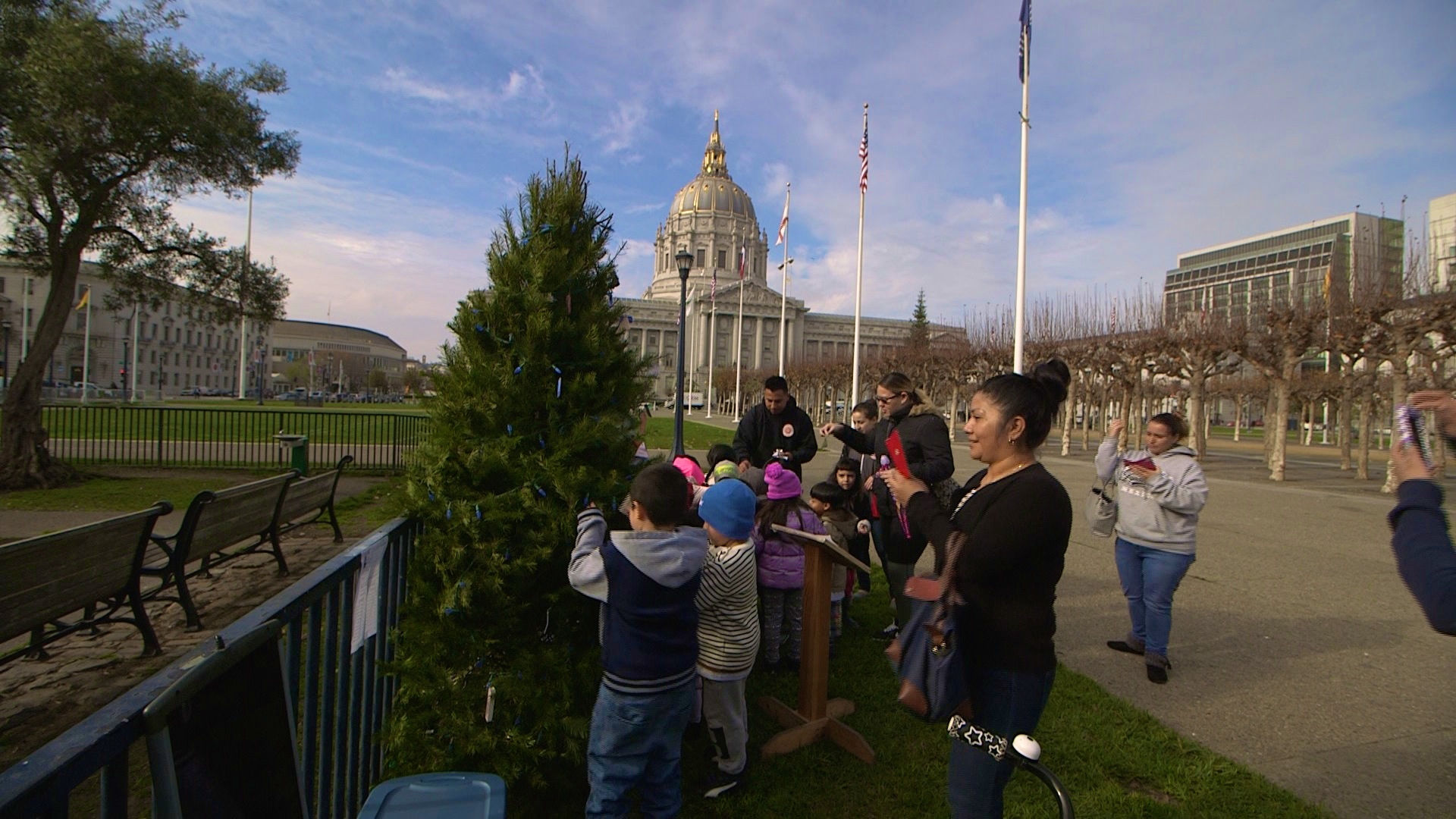 These days, Standerwick's holiday tradition has taken on more twists and turns than Santa Claus making his down a crooked stove pipe.
He hauls out a solar panel connected to a bicycle, which the kids pedal to power the lights as a lesson in sustainable energy.
And the ornaments now have an international flair. Standerwick travels the world during the year doing volunteer work. He said often during his travels he'll pop into schools to get kids to make ornaments and cards which in addition to decorating his tree, are also delivered to hospitals and senior homes. The ornaments now boast a pedigree from places like Nepal, Japan and Germany.
"It's a giving tree," Standerwick said. "It's about giving."
One day this week, several groups of kids from San Francisco's gritty Tenderloin turned up to decorate the tree — making the trek through darkened skies that threatened rain. As a teacher offered to stagger the pint-size decorators to installments of three to ease the mayhem, Standerwick instead encouraged her to turn the kids loose to decorate at will.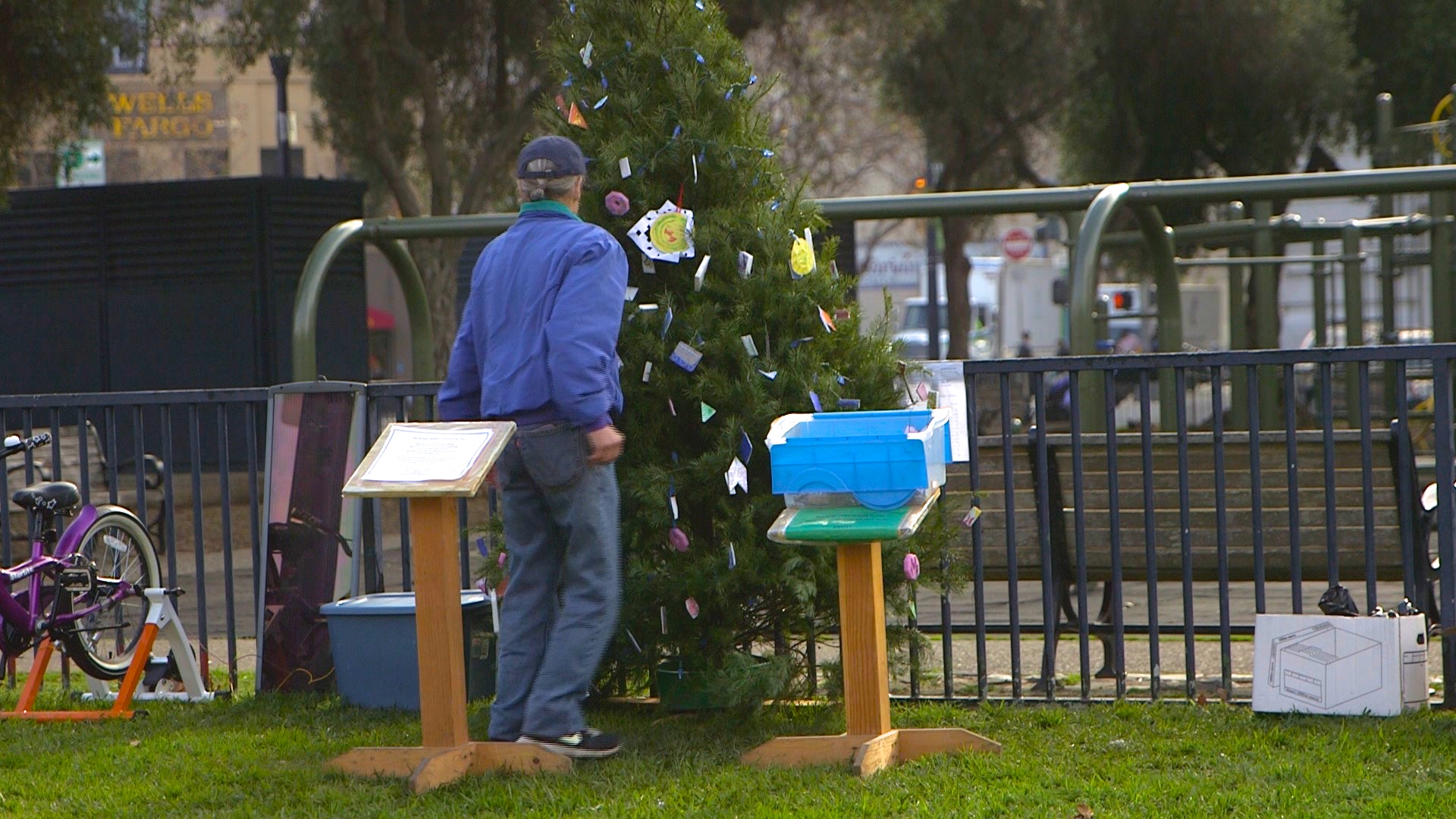 "I like mayhem," he said with a grin.
For some kids, it was a first encounter with the decorating end of a holiday tree.
"Some of the kids don't get to experience having Christmas tree at home," said teacher Latreesha Tidwell. "So this gives them a chance to actually decorate a tree."
The children screeched, tugged at ornaments and let out a collective "Oooooh" when a fellow student energized the tree's lights by pedaling frantically. In the middle of the holiday scrum, Standerwick stood with his face lit with a wide grin — as if there were no place in the world he'd rather be.