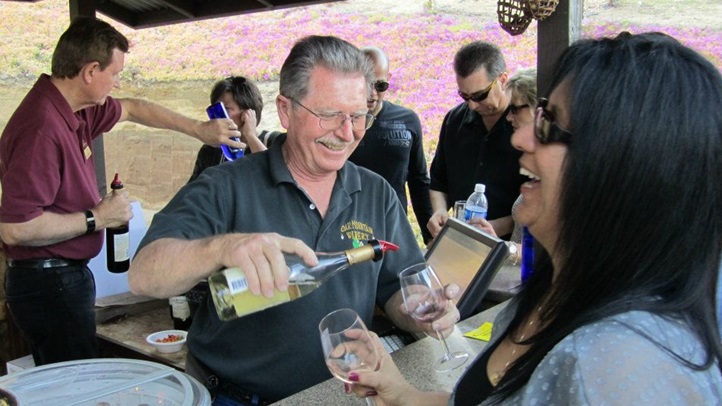 VARIETAL WINES: Wine tastings are definite gamut-runners, with a number of different focuses, if they have any focus at all (beyond "come try our delicious vino"). But Temecula Valley's annual World of Wine gathering definitely gives the libation-y love to varietal wines and spring release sneak peeks. "Old world wine varietals created in the new world, Temecula-style..." are on the tasting tables, and they might hail from "barrel, tank, or bottle." It'll be up to the winery in question, and as there are over 30 participants, that gamut, as mentioned, shall be run.
DATES AND DETAILS: The World of Wine -- typically shortened to "WoW," you betcha -- is one of those mondo wine country events that has a way of hanging the "sold out" sign days ahead of the weekend, so getting on those tickets is key. They're $99 for both days, with a designated driver ticket for $69. Oh, and those days? March 1 and March 2. Oh, and are there food pairings? There are. Oh, and are there lodging packages? Indeed, at spots like South Coast Winery & Spa, the Inn at Europa Village, and Temecula Creek Inn, which has a "WoW Me Some" Package on during the weekend (the best bit might be that a one-night stay is a possibility, a rarer thing for destination hotels come the weekend).
HAPPY 23 YEARS: World of Wine is nearing its quarter century mark, in a couple of years, so the list of participating wineries is a who's who of the valley. Everyone's all in, pretty much, with sips, bites, and whimsical additions. For instance? There's a cork art contest that pops up during WoW. And to think we were saving our corks for a traditional toteboard? We'll think larger from here on out.
Copyright FREEL - NBC Local Media