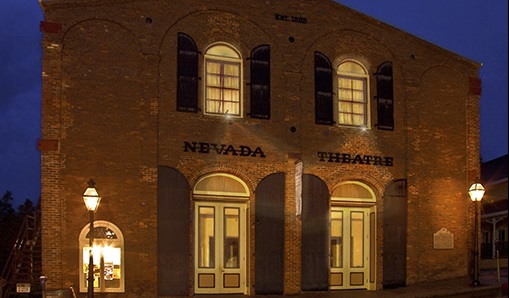 PUTTING TOGETHER... a theatrical company nowadays, and securing a venue that suits your needs, is no walk in the park (or walk along the proscenium-close catwalk, if you prefer). For sure, you have the internet at your disposal, but you still need to build your team, and place people in the roles that suit their strengths, and take care of approximately 887 other details before staging a show. Such has always been the case with live performance, minus the "finding help on the internet" part, though putting together a fresh venue back in the middle of the 19th century had its issues. For one? Communication over long distances was a mite harder. Electricity wasn't even happening yet, so candles were the order of the day. And hoping the traveling company you booked months ago arrived at your stage, on schedule, was always something on an owner's worried mind.
THE NEVADA THEATRE in Nevada City built its foundation during this exciting period, a time that was about as rough-and-tumble a time in California's history as times got. But people still wanted their plays and their speeches and their dance and to escape the rough-and-tumble-tude for an hour, and the elegant brick building near the top of Broad Street in Nevada City very much helped. It's turning 150 years old, and fans shall celebrate the sesquicentennial of what's billed as the West Coast's "oldest existing theatre... that continues to operate as a theatre." Date? Saturday, Sept. 12, and it is free.
SHALL THERE BY HISTORY TOURS? There shall be, and they may (probably will) mention that Mark Twain appeared at the Nevada Theatre to regale audiences of his trips abroad. The first film screened there over a hundred years ago, and bands and artists still strum and croon from its fabled stage today. It is a testament to the theatre's spirit, how it has stayed on and thrived, and how its neighboring art-minded community has supported it over the years. Will the theatrical troupe you founded this year, or the one you're thinking of, endure for a century and a half? Perhaps a stroll into the brick beauty found on Broad Street, in north Gold Country, will lend a little luck. And isn't so much of the performing arts heightened, in the hearts of those who pursue it, by some old-fashioned good fortune, borrowed from a place that's weathered time? Happy 150th, Nevada Theatre.
Copyright FREEL - NBC Local Media