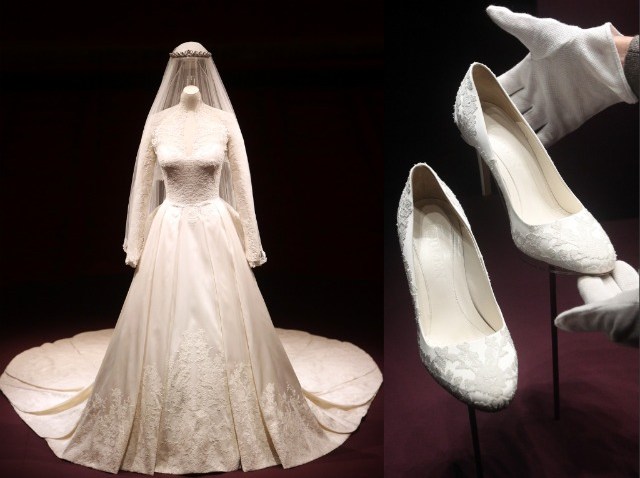 Most of the world has seen Kate Middleton's Sarah Burton for Alexander McQueen wedding gown, but now, visitors to Buckingham Palace can see it close up, along with her wedding shoes, tiara and veil in a 10-week exhibition.
According to the Daily Mail, the hand-embroidered lace-bodice gown cost 250,000GBP, which rings in at more than $400,000. Burton described it in an accompanying video as a "feat of engineering," with weighted canvas panels and a hidden bustle to keep its structure as Duchess Catherine walked down the aisle at Westminster Abbey. Burton also talks about Catherine's involvement in the design process, and her desire for a "virtually unadorned veil" to go with Queen Elizabeth's Cartier tiara.
The Palace would only say that the dress is "small," which the British press who previewed the exhibition noted on their own (the Telegraph described it as "diminutive"). The bridal shoes, however, were stamped a U.K. size five and a half, equivalent to a U.S. size six. At a reported 5'10", that seems remarkably small, but then again, it's Kate Middleton we're talking about.
U.S. & World
News from around the country and around the globe
Those obsessed with the dress would benefit from making the trip to Buckingham Palace to see its masterpiece without a glass partition, before its tucked away in the annals of history.