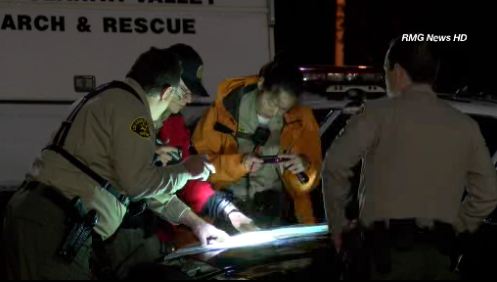 After an almost nine-hour search, officials announced a dirt bike rider who went missing Tuesday evening had returned home Wednesday morning.
Antonio Marquez, 54, was taken home when a driver saw him on the side of the road, officials said.
Marquez told his daughter he crashed his bike on a difficult trail as the sun started to set Tuesday evening, slid down a small cliff, and used the light on his phone to find his way to a main road, she said.
Marquez's family members reached out to authorities about 10:30 p.m. Tuesday after they could not reach the man, whom they last spoke with four hours earlier, according to the Los Angeles County Sheriff's Department
His phone died, so he slept in the canyon and found his way to Bouquet Canyon road Wednesday morning, she said.
A driver who saw Marquez's story on the news spotted him and took him home.
Marquez was safe but sick upon returning home. His daughter told NBC4 he was throwing up and exhausted. He is diabetic and did not have his medicine, water or snacks.
Authorities had been searching the Santa Clarita area where it is believed that Marquez was riding his bike. The search area had expanded from the San Francisquito Canyon area to Boca Canyon as well as Canyon Country, LA County Sheriff's Deputy Joshua Dubin said.
"He stated that he was out riding his Duro motorcycle and that he was on some treacherous trails, the family then lost contact with him" LA County Sheriff's Deputy Joshua Dubin said.
Search and Rescue teams from Santa Clarita and Crescenta Valley as well as other agencies were working to locate Marquez. An LA County Fire Department helicopter also assisted in the search.