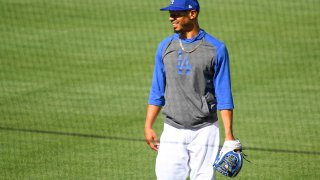 The Los Angeles Dodgers and superstar outfielder Mookie Betts have mutually agreed on a 12-year, $365 million extension that will keep the former 2018 American League MVP in Dodger Blue through the year 2032.
"This is obviously a special day," said Betts on a Zoom conference call on Wednesday. "It's what I've been working for my whole my life. My family and parents have been a part of it, and this is a day we've been dreaming about and for it to come true is definitely a blessing. I'm super happy to be a part of this organization for the rest of my career."
At one point over the summer, the Dodgers organization and their fans feared the possibility that Betts would never play a game in a Dodger uniform. Betts was originally scheduled to become a free agent at the end of the 2020 season, and many experts believed that he would become a one-year rental based on the team's history of free agent signings.
Not so, said President of Baseball Operations Andrew Friedman in a Zoom conference call with reporters on Wednesday.
"When we made that trade we did it with more than 2020 in mind," said Friedman, who acquired Betts and left-hander David Price back in February from the Boston Red Sox. "We appreciated the risk that came with that, but we did it with our eyes wide open and a commitment to do whatever we could to keep Mookie here for the rest of his career."
The 12-year, $365 million extension is the largest deal in terms of years and total money the Dodgers have ever been spent on a player during Friedman's tenure, and the first to eclipse more than five years and $100 million.
"I think when you're making an investment of this magnitude, you're not just betting the player's ability, you're also betting on the person," continued Friedman. "With that, we couldn't be more comfortable in making that investment in Mookie Betts."
Including Betts' one-year, $27 million salary for the 2020 season, the totality of the deal that keeps Mookie Betts in Los Angeles is for 13 years and $392 million. The extension exceeds the one signed by Mike Trout for $360 million, although that deal came with a $65 million signing bonus.
According to Ken Rosenthal of The Athletic, Betts' deal with the Dodgers includes a $65 million singing bonus of his own, which is not taxable for him as a non-California resident. It also brings his salary down to $17.5 million in 2021 and 2022. The Dodgers have a lot of players coming off the books after those two seasons.
The deal also includes no opt-outs, and there is not a no-trade clause attached. $115 million of the $365 million is in deferred money, but if Betts is traded, the deferrals would be converted into present-day dollars.
Local
Get Los Angeles's latest local news on crime, entertainment, weather, schools, COVID, cost of living and more. Here's your go-to source for today's LA news.
Prior to the COVID-19 pandemic that delayed the start of baseball for four months, Betts had previously turned down an extension with the Boston Red Sox that reportedly was worth at least $300 million. In rejecting that deal, Betts and his agent likely expected to exceed it on the open market, but the pandemic has changed everything in sports this year, and with MLB expected to lose billions of dollars in revenue this year, it made the financial future of many teams uncertain beyond 2020.
"The market wasn't what I was worried about," said Betts. "Just fair value. Once we got to that point, and being somewhere I love being, the match is perfect."
Betts has only been with the Dodgers for less than five months, and has spent less than three weeks in Los Angeles since he reported to summer camp on July 1. Nonetheless, Betts said he was comfortable in the City of Angels, and attributed the organization's culture and dedication to winning, as well as his talented teammates as the reasons why he chose to sign an extension through the 2032 season.
"When I got here seeing all the talent that you just don't see here every day," said Betts. "Obviously it's a team that's won seven straight division titles, been to the World Series and the playoffs so many times. There's a lot of talent here. I knew the Dodgers were going to be good for a long time."
He's not wrong. In addition to Betts, the Dodgers have a young core that they can build around for the next decade. In addition to the 27-year-old Betts, the Dodgers have Cody Bellinger, Walker Buehler, Corey Seager, Gavin Lux, Will Smith, and Dustin May for the foreseeable future, which should allow them to remain as one of the best teams in baseball for years to come.
For the Dodgers, it wasn't just Betts career average of .301 with 139 homers, and 470 RBI. It wasn't the accolades of four Gold Glove Awards, three Silver Slugger trophies, and one MVP award that made them want to commit to Betts for so long. It was the person behind all the accolades that stood out to Friedman and the organization.
"During spring training and even summer camp, he's the first guy on the field," said Friedman. "The play that hopefully turns out to be the last play in a Red Sox uniform speaks to who he is: scoring from first base in Game 162 in the ninth inning in an otherwise meaningless game. I've showed that video to my son. It speaks to his talent and the type of person he is and how much he cares. It just strengthened that commitment."
The 13-year, $392 million commitment is certainly enormous for a player that won't make his Dodger debut until Thursday night against the San Francisco Giants. However, Betts' impact on the younger players has already been felt after a team meeting early in spring training in which he held everyone accountable, and let his teammates know what was at stake each and every season.
"The goal is to bring some rings," Betts said at the end of his press conference, making a point to add an "s" at the end. "This organization is a well-oiled machine. I'm super excited to be a part of it for the next 12-13 years."