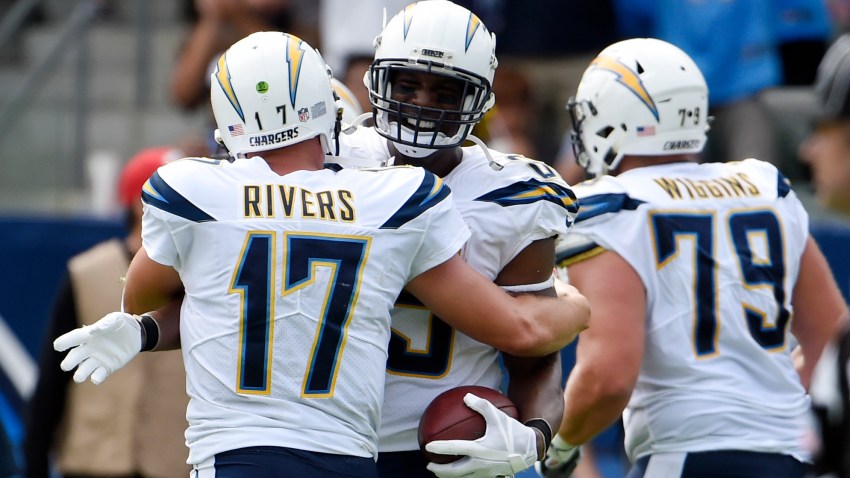 Antonio Gates made history at StubHub Center in the third quarter Sunday, catching a seven-yard pass in the end zone from quarterback Phillip Rivers to surpass the mark for most touchdown catches by a tight end.
Gates broke the record previously held by Tony Gonzalez who retired after his 17th season in 2013.
Ironically, this happened on the same day that his former teammate LaDianian Tomlison received his Hall of Fame ring during halftime at StubHub Center. Gates, a 15-year tight end vet made history of his own during the game and ensured his place in Canton, Ohio whenever he decides to hang up his jersey, which could be at the end of this season.
"I was a basketball star, I never imagined I'd be up here talking to you all about a football record," Gates explained after the game. "It goes to show you that God's plan always trumps your plans."
He is truly a man of faith and dedication. The 2003 undrafted free agent worked extremely hard in order to be make the team. By his second season, he set a record for touchdowns in a season with 13. He's elevated his game every year since, and revolutionized the tight end position.
"It's finally coming to an end," a relieved Gates said. "Six weeks of hearing about it, when are you going to break the record? Now. the opportunity present(ed) itself, and still being able to give our team a chance to win, I can't tell you... because it was a bittersweet moment. Even though we were still able to move forward in the game, you still want to get a win."
It was the 85th scoring connection between Rivers and Gates, that ties them for second-most by a quarterback-tight end duo with Jerry Rice and Steve Young.
"It was awesome. Too bad it didn't happen in a win, but it was awesome," Rivers said. "Its a lot of touchdowns, a lot of years, a lot of tight ends that have played in this league. Certainly a special accomplishment for him. I'm just thankful that I could be a part of a lot of them -- not all of them, but a lot of them."
Gates joked in a post-game press conference that he welcomed all of his team to celebrate with him -- except Rivers. He said he told Rivers to stay away from him because he didn't want to get emotional during that time.
Now Gates and the Chargers can put that mark past them, and solely focus on getting more wins this season in a goal to make the playoffs.
Chargers former running back LaDianian Tomlison was honored at halftime, with his Pro-Football Hall of Fame Ring on the field in front of over 25,000 fans.
He's a five-time Pro-Bowler and four-time All-Pro, rushed for 13,684 career yards and 145 touchdowns in 11 seasons. He spent nine seasons with the San Diego Chargers and two seasons with the New York Jets.
Tomlinson currently works as an analyst on the NFL Network and serves as a special advisor to the Chargers with community development.