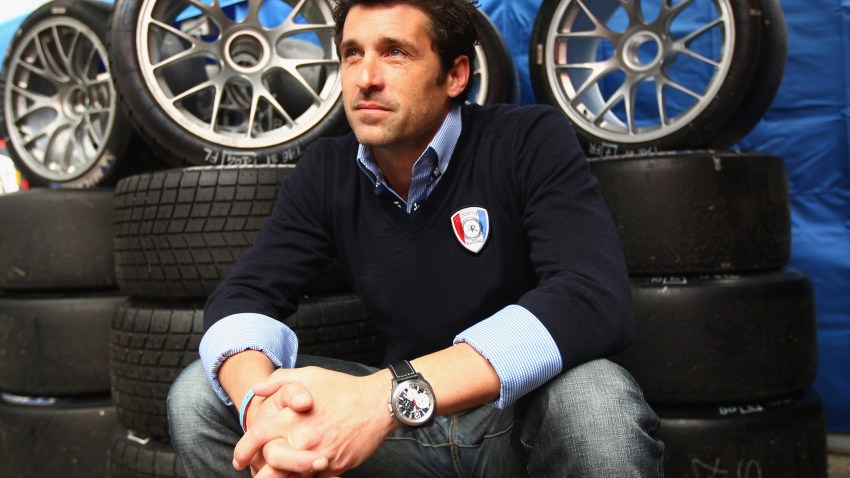 Neurosurgeon. Racecar driver. Sexiest man alive. "Grey's Anatomy's" Patrick Dempsey plays a lot of roles.
This weekend he is trading in the scrubs for the racing fire suit as Dempsey hops behind wheel of a Mazda3 in the SCCA Pro World Challenge race, which will run through the streets of Long Beach on Sunday afternoon (with practice sessions and qualifying Friday and Saturday).
Acting pays the bills, but speed and the thrill of racing is in Dempsey's blood. He has raced in the 24 Hours of LeMans and has driven the pace car at the Indianapolis 500. He also owns Dempsey Racing, where he is the driver competing in the Rolex Grand-Am GT series. The man is not out for a joy ride -- he knows his cars.
This weekend he switched it up a little, changing circuits to be close to home.
"I'm thrilled to be able to race near my Los Angeles home," Dempsey said. "With the Grand-Am series, I've been able to race at many of the great tracks in North America, but now I have a chance to race locally."
The Pro World Challenge is one of several races on the under card of the Toyota Grand Prix of Long Beach, which races through the city's downtown this weekend. The headline race is the IndyCar series with Danica Patrick and Helio Castroneves, among other top drivers.
Although for many fans, Dempsey is the headliner.
The Long Beach race has a tradition of having the Toyota Pro/Celebrity race, which returns again this Saturday featuring defending champion Keanu Reeves, Adrien Brody, Adam Carolla, Tony Hawk, Christian Slater, Brian Austin Green, Jesse McCartney, Zachary Levi and Patrick Warburton. They will race in souped-up Scion tC Sports Coups. Dempsey did that in 2006
That's not what Dempsey is doing this weekend -- he is a racing right along side other professional drivers in a serious class of cars. The World Challenge will feature two-dozen drivers in cars such as Porsches, Corvettes, Vipers and Acuras. Its races take place on the most prestigious tracks in the world.
Dempsey is switching cars this weekend -- usually he races a modified Mazda RX8 -- and any racer will tell you that switching cars is like learning to drive all over again.
"The Tri-Point MAZDA3 really impressed me during testing," Dempsey said. "I've never driven a front-wheel drive racecar that handled that well before... The weekend will also be personally rewarding to me as we'll be carrying the colors of our Dempsey Challenge."
The Dempsey Challenge is a fundraising event for The Patrick Dempsey Center for Cancer Hope & Healing at Central Maine Medical Center. The 2010 event will take place Oct. 2 and 3 in Lewiston, Maine.
Dempsey will be inhaling the fumes and be around the Toyota Grand Prix of Long Beach all weekend. The World Challenge race runs Sunday at 4:15 p.m.
Copyright FREEL - NBC Local Media