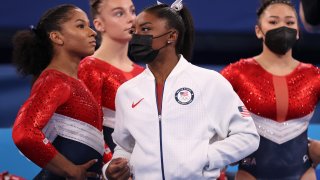 Looking for live video? Scroll down for links to each event's live stream.
Several Southern Californians were in action when the U.S. softball team attempted to cap off what has been a perfect Tokyo Olympics with a gold medal.
The U.S. team took on Japan in the gold medal game early Tuesday morning, with the host nation ultimately taking the gold. The two teams met Sunday in a preview of the gold medal game that featured a dramatic ending and another strong U.S. pitching performance.
In other events, the women's gymnastics team final, marking Simone Biles' first chance to win a medal, ended with a silver medal for Team USA. Four Americans won medals in swimming, and the U.S. soccer team wrapped up group play against Australia.
Here are four events to watch on Day 4 of the Tokyo Olympics.
Japan Wins Gold, U.S. Misses Perfect Ending in Softball
After a walk-off win by the US on Sunday, Japan shut out Team USA in the gold medal softball game, winning 2-0 at 4 a.m. PT on Tuesday.
Team USA only had three hits during final game, while Japan had a runner in scoring position in each of the first four innings before finally converting on an infield single in the fourth inning.
Japan added a second run in the top of the fifth inning, clinching the win.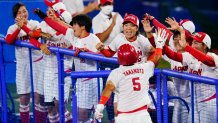 It marks the second time in Olympic history that Japan upset the U.S. in the gold medal game. The first was the 2008 gold medal game at the Beijing Olympics, where Japan became the first and only team to keep Team USA off the top of the podium in softball.
Both teams were 4-0 entering Sunday's matchup and had clinched their spots in the gold medal game before facing one another in the final game of round-robin play.
The Americans have been led by outstanding pitching from Cat Osterman and Monica Abbott. Neither pitcher conceded a run over the first three games of the tournament. The team has also seen some timely hitting, as Amanda Chidester walked it off with a two-run single in the eighth inning against Australia on Saturday and Kelsey Stewart hit a walk-off home run against Japan on Sunday.
U.S. softball players with Southern California connections include Aubree Munro (Brea), Bubba Nickles (UCLA), Dejah Mulipola (Garden Grove), Delaney Spaulding (Rancho Cucamonga), Janie Reed (Placentia), Ally Carda (UCLA) and Rachel Garcia (Palmdale/UCLA).
The game was live on NBCSN and for streaming here.
TV INFO: NBCSN, 4 a.m.
U.S. Gymnastics Team Wins Silver As Biles Pulls Out
USA Gymnastics won silver in the women's team final, after Simone Biles had to exit the competition floor "due to a medical issue," USA Gymnastics said. The Russian Olympic Committee won gold and Great Britain won bronze, with Italy and Japan placing fourth and fifth respectively.
The G.O.A.T. of gymnastics had her first chance to earn a medal at the 2020 Tokyo Olympics during the 3:45 a.m. PT event.
24-year-old Biles bailed on her planned Amanar vault, opting for an easier Yurchenko 5/2 twist in mid-air and then struggling with the landing and receiving a score of 13.766.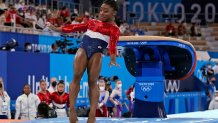 She was seen huddling with a trainer after the vault, before exiting the competition floor with the team doctor and returning several minutes later with her right leg wrapped.
You can watch Bile's vault here. In that video, she be heard telling teammates "You guys go out there and do what you've trained to do. I'm sorry. I love you guys, but you're going to do just fine. I love you. You guys have trained your whole entire lives for this. It's fine."
The nature of her injury is unclear, but USA Gymnastics said in a statement to NBC that "she will be assessed daily to determine medical clearance for future competitions."
During a conversation with TODAY's Hoda Kotb, Biles said that while she feels good physically, things 'vary' from an emotional standpoint.
"Coming to the Olympics and being head star isn't an easy feat," she said.
Simone Biles earned the top all-around score in qualifying, and Team USA finished with an overall score of 170.562 in qualifying, good for second place behind the Russian Olympic Committee's 171.629. China, France and Belgium finished qualifying in third, fourth and fifth, respectively.
Biles was joined by 20-year-old Jordan Chiles, 18-year-old Suni Lee and 18-year-old Grace McCallum in the team event. Lee finished third in qualifying with an all-around score of 57.166, while McCallum and Chiles finished 13th and 40th, respectively. While the U.S. owned two of the top three spots for all-around scores, ROC had the fourth, fifth and sixth-highest scores on its team.
The women's gymnastics team final was live on the Olympic channel, available for full coverage streaming here or with the Team USA tracker.
TV INFO: Olympic Channel, 3 a.m. PT
Four U.S. Swimmers Medal in Swimming Finals; Two World Record Holders Pass On Their Crowns
Four members of Team USA won medals during the Olympic swimming final Monday night, though Lilly King and Ryan Murphy did not defend their crowns as expected.
Murphy won bronze in the men's 100m backstroke event. He set the world record in the men's 100m backstroke at the 2016 Rio Olympics, and after he tied for seventh overall in Sunday's heats, posted the top time in the semifinals.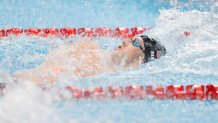 Regan Smith, a top American contender in the women's 100m backstroke event, also won bronze. During the women's 200m butterfly heats on Tuesday, she made a quick turnaround and posted the No. 4 time, with fellow American Hali Flickinger posting the No. 2 time.
King won bronze Monday night in the final for the women's 100m breaststroke, an event where she set the world record in 2017. She finished with the third-fastest time in Sunday's qualifying, trailing fellow American Lydia Jacoby and South Africa's Tatjana Schoenmaker, who broke King's Olympic record with a time of 1:04.82.
17-year-old Jacoby took the gold medal during the 100m breaststroke event, in a stunning upset victory.
The women's 100m backstroke was an intriguing final after the Olympic record was broken in three consecutive heats on Sunday. Canadian Kylie Masse and American teenager Regan Smith each owned the record for exactly one heat before Australian Kaylee McKeown raised the bar in the final race.
The other Monday final taking place was the men's 200m freestyle. where Kieran Smith, who already won bronze in the men's 400m freestyle, missed the podium.
Monday night's action will also feature semifinal races for the women's 200m freestyle, men's 200m butterfly and women's 200m individual medley.
Watch live in NBC's primetime coverage, or stream live.
TV INFO: NBC, 6:30 p.m. PT
Soccer Wraps Up Group Play Against Australia
Megan Rapinoe, Diamond Bar's Alex Morgan and Co. tied with Australia 0-0, during a 1 a.m. PT game that determined an automatic spot in the quarterfinals.
Team USA won the tiebreaker over Australia based on goal differential, with the United States' goal differential of 2 being better than Australia's -1.
The U.S. women's national soccer team got a much-needed victory over New Zealand on Saturday following a stunning defeat against Sweden to begin the tournament.
The USWNT and Australia both had three points in the Group G table through two games. Sweden, with wins over the USWNT and Australia, already clinched one of the two automatic quarterfinal spots.
The quarterfinal for women's soccer begins on Friday, July 30.
The USWNT is looking to return to the podium in Tokyo after missing it for the first time in the event's history at the Rio Games.
The game was on the USA Network and available for streaming live.
TV INFO: USA Network, 1 a.m.