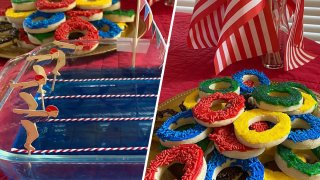 The #TokyoOlympics are underway for the athletes. The #EverydayOlympics are underway for YOU!
We're asking readers and viewers to show us how they're matching that Tokyo Olympics energy. Trying out a sport or event that you're seeing on TV for yourself? Show us (safely, of course)!
Below, a look at some of our favorite ways fans are displaying their Olympic spirit in everyday life.
Ben Pankonin took the lighting of the Olympic cauldron during the Opening Ceremony quite literally. Here he is lighting the torch in the backyard.
This little guy has clearly been inspired by the Olympics.
Our furry friends can get in on the Olympic action too! @ginger_doggie dressed up in her very best for the Opening Ceremony.
And Caitlin Moore's dog in Dallas, Texas, was so enamored with the horses in the equestrian event we're not sure what he's going to do when the Games are over.
Amy McGrew and her family threw a Team USA-themed Opening Ceremony party complete with Olympic ring cookies and a literal jello pool.
How are you watching the Olympics? Show us on Facebook, Twitter or Instagram using #EverydayOlympics to be featured.