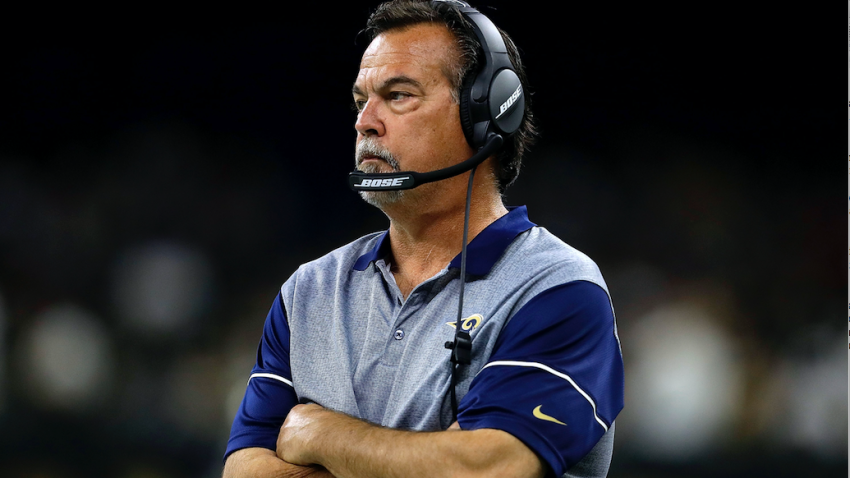 They say there are three sides to every story:
Your side, my side, and the truth.

Such is the case in the ongoing spat between Los Angeles Rams head coach Jeff Fisher and Hall of Fame former running back Eric Dickerson.
Dickerson played five seasons with the Rams from 1983-1987 where he averaged over 111 yards per game and became a local legend in the Los Angeles community.

As we reported on Monday, Dickerson revealed that Fisher had called him and told him he was not welcome on the Rams' sidelines during games.
Dickerson told Fox Sports Radio, that the call came after the former Rams running back had requested sideline passes for some friends for the team's Nov. 20 home game against the Miami Dolphins.
Dickerson had been critical of the team in the preceding weeks on Fred Roggin's radio show and Fisher told him that his comments had made the players uncomfortable and that he was denying his request for sideline passes because of it, a fact that Fisher acknowledged in his post-practice press conference on Tuesday:
"He was voicing his opinion, which he has every right to do," Fisher began. "And then immediately after, wanted things from the organization—and it doesn't work that way. You can have it one way or the other, it's just simple."
Dickerson says the call went like this:
"I see a 314 number calling in. So I get on the phone and say hello. He says, 'Hey, Eric, this is Jeff Fisher.' I said, 'How you doing, Jeff?' He said, 'I just wanted to call you. I want to tell you a few things here. I don't have time for this, but I'm going to tell you. You're not going to be talking about the football team, talking about our team, talking about my coaches, expecting to get things from this football team. We're not going to give you anything. We're not going to support you in anything. As long as I'm here as coach, we feel uncomfortable with you coming on the sideline. The players are uncomfortable with that. So as long as I'm head coach here, I'm just going to let you know it's not going to happen."
The truth of the ever-evolving feud between former player and current coach lies in between both parties' respective stories of how the conversation unfolded.
Dickerson has been vocal in the media of the Rams, Fisher, the players, and the coaching staff this season. He has repeatedly criticized the play of the offensive line, the uninspired play calls from offensive coordinator Rob Boras, and Fisher's decision not to start No. 1 overall pick Jared Goff for the first nine games of the season.
So despite those very public claims, the question remains: should Dickerson receive "favors" from the Rams organization because of his Hall of Fame standing as a player, or is he not allowed to have his cake and eat it too?
There's no doubt that Dickerson is one of the most loved and revered figures in Los Angeles sports and he has every right to voice his opinion about the team and their performance on the field, but, as head coach of the team, Fisher too, has every right to respectfully decline his request for sideline passes for his friends after he was critical of him, his coaches, and his players.
Fisher's number one priority is to make sure his players and coaches are prepared to perform at their best on the field and that distractions don't hinder them from doing their job. It's hard to tell them to stop listening to the news or the radio when members of the media including former players are talking about them, but he can control whether one of those people are standing feet away from them come game day.
In Fisher's defense, he never "banned" Dickerson from the sideline and has said publicly this week that he is "always welcome" on the team's sideline. The issue at hand is whether the team should accommodate Dickerson's request for sideline passes from his friends and where the line gets drawn for future favors down the road.
Fisher felt that after being so critical of his players and coaches, that it was better Dickerson and his friends were not on the sidelines and instead offered them a catered luxury suite.
"I opened everything to Eric," he said. "I wanted him to know that we would provide anything for him that he needed."
Fisher also made the argument that if Dickerson wanted to be critical of the organization publicly, that he should see what's going on behind-the-scenes at practice, team meetings, and walkthroughs. He mentioned that other famous Rams alumni like Jackie Slater and Jack Youngblood have attended practices and former Titans running back Eddie George who played for Fisher, has frequently attended meetings with the team whereas Dickerson has not.
"I'd welcome him in the building. I'd love to have him come in. I'd love to have him come to practice. I'd love to have him come in the meetings," Fisher said of Dickerson. "Eddie George has been in my meetings more than Eric Dickerson has. I'd love to have him here."
The probability of that ever happening appear to be slim as Dickerson has now publicly stated that he will never again attend a Rams game at the Coliseum as long as Jeff Fisher is head coach.
"I want to go to a football game as much as I want to tie a bloody steak around my neck and jump in the Pacific Ocean butt naked," Dickerson said on Fox Sports Radio.
It's a shame that the Rams' myopia didn't factor into their decision to decline Dickerson's sideline passes. It's also a shame that Dickerson revealed the contents of a private conversation between he and Fisher for public consumption, and it's a crying shame that it happened after the Rams lost back-to-back games and got embarrassed in New Orleans, 49-21, by the Saints.
On Wednesday, Fisher said that Rams' chief operating office Kevin Demoff has reached out to Dickerson and welcome him back into the Rams family, but Fisher has not spoken with him or heard his name since Tuesday.
"No, it's the first time I've heard his name since yesterday, not a word," Fisher said when asked if there's been any new developments or contact with Dickerson. "It's all about the Patriots now."
At this point, it appears the relationship with Dickerson and the team is beyond repair as E.D. continues to rage war on social media between the fans and Fisher.
In the meantime, Fisher himself has bigger fish to fry (pun intended), as his team travels to Foxborough to face Tom Brady, Bill Belichick and the New England Patriots.
It appears that Fisher's future won't lie in the court of public opinion, or based on the hurt feelings of Dickerson, but rather, how the final few weeks unfold on the field.
At 4-7, the team's losing record will carry more weight on whether or not Fisher remains the coach of the Rams next season. The development of Jared Goff, how the defense performs, and how Fisher handles the pressure of the next month will all determine his future in Los Angeles.
Despite the now public spat with Dickerson and the team's record, Fisher has done a credible job in transitioning the team through the relocation process. He led the organization as they moved halfway across the country, had OTAs in Oxnard, training camp in Irvine, practices in Thousand Oaks, and games across the globe including London this season.
Fisher has not had a winning record in his five seasons with the Rams, but he was also without a franchise quarterback, something the team believes they now have in Goff.
Fisher has the faith of his team, but the organization's hand might be forced when it comes to the faith of the fans, especially in light of the Dickerson situation.
Rams' owner Stan Kroenke will need to have the excitement of the city and fanbase at an all-time high when the team moves into their new stadium in Inglewood in 2019. It's possible that Fisher may get a longterm extension in the offseason with one-year out clauses for the team until that time comes, but for now, all eyes will be on Fisher as he leads the team to New England.