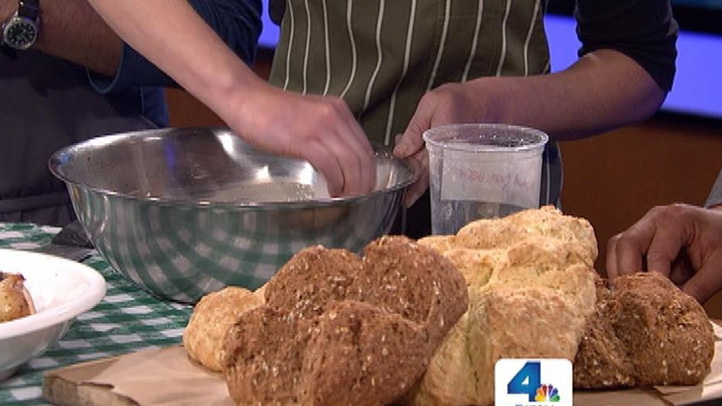 Brown Soda Bread
Courtesy of Pastry Chef Ann Kirk
2 ¾ cups whole wheat flour
¼ cup + 2 Tbsp pastry flour
1 cup rolled oats
1 tsp baking soda
2 tsp baking powder
1 ½ tsp kosher salt
1 cup + 2 Tbsp* buttermilk
¼ cup molasses
Preheat oven to 375
In a large bowl, combine whole wheat flour, pastry flour, rolled oats, baking soda, baking powder, and kosher salt. Mix well and make a well in the center.
Mix 1 cup buttermilk with ¼ cup molasses,* set aside the 2 Tablespoons buttermilk. Pour the buttermilk mixture into the center of the well and stir dry ingredients in quickly to combine. If you have remaining dry ingredients in the bowl or the dough seems dry, add the remaining 2 Tbsp buttermilk and mix just until incorporated and your dough forms a mound.
Transfer mound to a parchment lined sheet pan and make two deep cuts in the top to form a deep cross.
Bake on the center oven rack at 375 F for 50 minutes, rotating at 25 minutes. When done, loaf will have a nicely browned crust and will have cooked away any visible moisture.