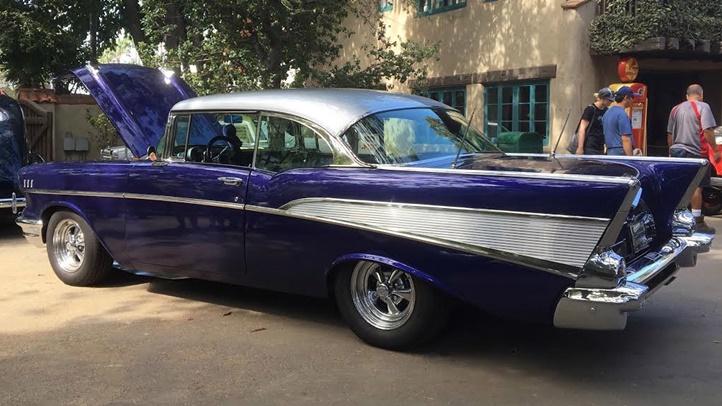 How rock solid is your knowledge of the major happenings of 1957?
If you happened to be here at that time, you might remember that Perry Mason was solving crime on television, the Slinky was all the find-a-staircase rage, and "Wake Up Little Susie" and "Bye Bye Love" by The Everly Brothers had millions of teens bopping.
As for one of the enduring symbols of 1957, the American-made car? Woooooowee, but the dream machines were hot, from ferocious fins to fender shine to those fill-the-road forms that are synonymous with the iconic era of American vehicles.
The Scene
What to do, where to go and what to see
That era will be the focus at the 23rd Annual Gilmore Heritage Auto Show, a first-Saturday-in-June tradition at the Original Farmers Market at Third & Fairfax. Each year the free happening is built around a single theme, perhaps a specific model or maker.
But in 2017? We're going back six decades on Saturday, June 3, straight to 1957, and all the cars that made the year's automotive history so memorable (and those automobiles still sought after).
And, to be honest, saying "all the cars" from that year is a stretch, but there will be "...over 100 American classic cars" parked around the landmark public market, and near the destination's nearest neighbor, The Grove. This means that, from 11 a.m. to 5 p.m., you can lookie-loo to your dashboard-devoted heart's content, leaning in to see the backseats, admiring the curve or size of the headlights.
Trucks also find a place, each and every year, at the Gilmore Heritage Auto Show, as well as custom fantasies. So, it's highly likely you'll connect with a car, or a dozen, that speaks on a deeper level to you.
Speaking of speaking, make time to speak with an auto's owner, if you see that person lingering nearby, if you need more back story on the vehicle that's caught your breath.

Will you depart Farmers Market in a beautiful 1957-induced daydream? Will you be inspired to head straight home to put The Everly Brothers on the turntable and dig out the ol' Hula Hoop?
That sounds mighty nifty, but do note: The Wham-O Hula Hoop first rolled into our lives in 1958. The year of 1957 has plenty to remember, but that icon was still to come.
Copyright FREEL - NBC Local Media