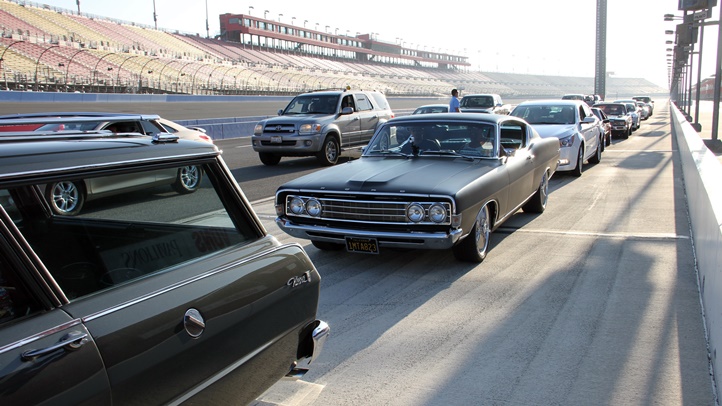 There are a number of interesting locations that, at first, second, and even fifteenth glance, seem as though they may forever be off-limits to us, if we don't arrive with the right skills or training.
Diving a deep ocean trench qualifies here, as does pitching in a major stadium. As for driving an automobile around a celebrated oval, the kind of track that regularly sees amazing speeds and top-notch racecar drivers?
That's another such "it'll never happen" place in many minds. Big sigh.
The Scene
What to do, where to go and what to see
But at the Auto Club Speedway, in Fontana, being able to access a storied location actually does happen for many fans, and it comes with a beautiful purpose: Supporting "... a program that encourages reading excellence from Southern California elementary school children..." as well helping school libraries with grants.
That program is Lefty's Reading Challenge, the beneficiary, via the Auto Club Speedway Foundation, of Lefty's Track Day, which shall vroom again on Thursday, Aug. 24.
But that's not the only thing vrooming at the Auto Club Speedway: People, as in fans and drivers who don't usually participate in auto races, will be out driving their own cars on the 2-mile oval.
How to join? Make a $15 donation, then keep an eye on the Official Toyota Camry Pace Car, which will keep everyone's roll steady and not overly speedy. If you show with a kid's book to donate — it should be new or only lightly loved — you'll receive a discount on that lap fee.
You won't go too fast in your car, which is understandable, but if you do want to experience some velocity, pay $20 and hop into the pace car for a ride that'll zoom up to 100 miles per hour.
Food-purchasing spots and family-oriented activities fill out the afternoon-to-evening party. The hours? It all happens from 4 to 7 p.m. on Aug. 24.
Lefty, of course, is the headlights-sporting mascot of the Auto Club Speedway Kids Club.
Will you be lucky enough to have a Lefty sighting after you take your wheels for a spin on the track? Keep those peepers peeled and be ready to find the Fontana-fun celebrity.
Copyright FREEL - NBC Local Media