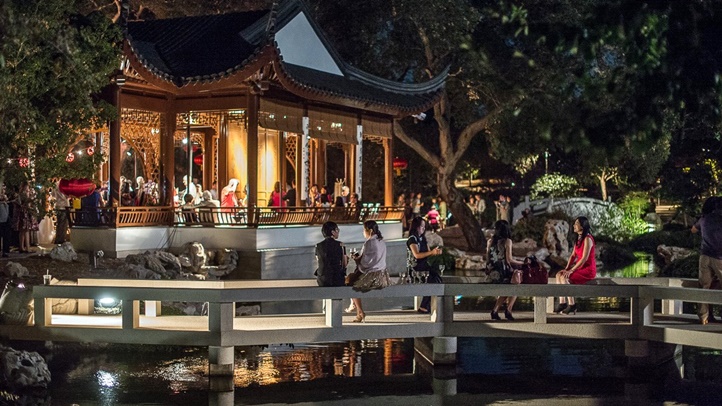 A full moon can always fill one with oodles of wonder, but if that lunar display happens to occur around the autumn equinox?
You can count on a host of festive gatherings around the globe, from China to Vietnam to right here in Southern California.
Eager to see a such a storied festival, one that has roots in centuries long past, bloom in the moonlight?
The Scene
What to do, where to go and what to see
There are a pair of grand gardens, the kind of places filled with flowers, enchantment, and moonbeams, ready to celebrate here in SoCal, and Central Plaza in Chinatown, with its neon and beautiful buildings, will also hold a merry moon meet-up.
The Arcadia Moon Festival at the Los Angeles County Arboretum & Botanic Garden will present "a traditional Chinese celebration" on Saturday, Sept. 30.
Moon cakes are a delicious centerpiece to the evening, yes; after all, few moon festivals would forgo what is considered to be the ultimate iconic staple of the happening.
Korean fusion bites from Belly Bombz, Vietnamese fusion from Mandoline Grill, and an array of other eats will also be available for purchase.
On the entertainment front? The Tataya Dance Studio will perform a peacock dance, Master Arnold Chien will lead the audience in the exquisite poses of Tai Chi, and the Elite Performing Arts Group shall summon the story of the Moon Festival.
A Lion Dance, Chinese Drumming, and moon-moving tunes are also on the roster.
On Tuesday, Oct. 3 The Huntington Library, Art Collections, and Botanical Gardens will hold its Harvest Moon Celebration at Liu Fang Yuan, "...one of the largest and most authentic Chinese gardens outside of China."
The Traditional Chinese Musical Ensemble of the Tianjin Dance and Song Theatre of China will perform by the garden's magnificent lake.
And a demonstration focused on the creation of moon cakes? Phoenix Bakery will visit the San Marino gardens to teach moon cake fans all of the sweet step-by-steps.
Do note: There are just a few tickets left for the Harvest Moon Celebration, so be sure to get yours well in advance of Oct. 3.
And be sure to join the joyful party at Chinatown's Central Plaza on Friday, Oct. 7 for the Mid-Autumn Moon Festival. A Dessert-Eating Competition, Chinese cultural demonstrations, DJs, telescopes set up for moon-admiring, and several other doings are on the after-sundown schedule.
Food trucks, too, will be out, and a craft beer garden will be nearby, so if you find yourself a bit peckish after the calligraphy demonstration, or the fruit carving presentation, or applauding the East Wind Lion Dance Troupe, or looking at the moon, make your way to dinner or a beverage.
As for the confection of the night? Samples of moon cakes, created by bakeries around Chinatown, will be available for your delighted dining pleasure.
Copyright FREEL - NBC Local Media