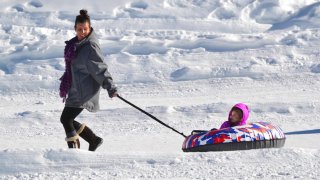 What to Know
Through April 14, 2022 (Mondays through Thursdays)
Two-for-one passes (a $40 value) at the attraction, which features snow tubing
The offer is open to "(a)ll active law enforcement, firefighters and U.S. military personnel"
Now that "pink tree season" has ethereally arrived, and tiny buds are making their first not-so-tentative showings around Southern California, and eager eyes have turned to the desert, with wildflower-focused expectations, it can feel like the frostiest time of year has begun to, well, melt.
We'll "au contraire" that right here, as quick as it takes a snowflake to land in the palm of your hand or a tube to whoosh down a cold hill.
For up in the local mountains, snow is still very much the central scene, and it stays that way into the middle-ish of spring-ish, give or take a few weeks, depending on what the partnership between the sky and snowmakers can continue to deliver.
If you and your family are still looking for some bundled-up, fresh-of-air fun, Big Bear Snow Play is open, and welcoming people seeking a wintry respite.
Badge Days also just opened at the outdoor attraction, meaning "(a)ll active law enforcement, firefighters and U.S. military personnel" can enjoy two-for-one deals on passes, Mondays through Thursdays.
The deal will schuss right into the middle of April, concluding on April 14, 2022.
You'll need to show identification to score that deal, which is a $40 value (putting more hot cocoa cash in your pocket, always a nice thing).
The "longest snow tubing hill in Southern California" is on the property, and the uphill lifts that comprise the oh-so-helpful Magic Carpet. The nearby lodge is the warm-up spot, the place to purchase snacks and play video games.
And while it isn't part of the deal, nor a weekday thing, Glow Tubing, another popular pastime, is happening each Friday and Saturday night, as well as holiday evenings, from 5 to 9 o'clock.
Before heading up the mountain, reading up on what you should know about Badge Days, and all of Big Bear Snow Play's activities and offerings, is as wise as a snowflake is cold.
Turn your tube in this direction now, for a place where wintertime is still wintering-up the lives of Southern Californians seeking some mountain-style merriment.