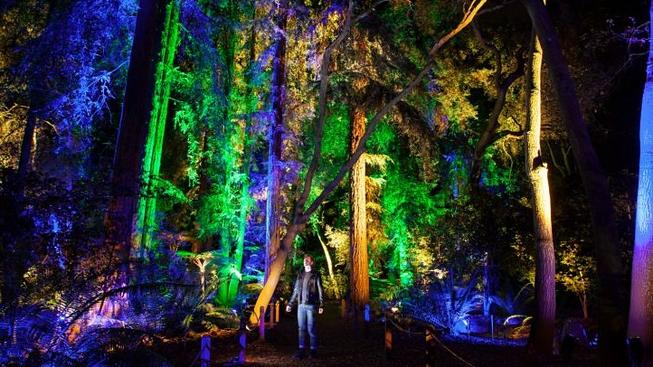 What to Know
Nov. 17, 2018
Tickets on sale: Sept. 4
$125
September? Frankly, it has hardly started.
Which means that October is way, way on the far side of the month. Which means November is another 31 days beyond that, and the second half of November?
It isn't near, nosirree. Not even near-ish.
The Scene
What to do, where to go and what to see
But if you adore Southern California's brightest seasonal events, those late-November-to-early-January pop-ups of wonder and glow, then you know that nights can fill up and spots can sell out.
"Enchanted: Forest of Light" at Descanso Gardens in La Cañada Flintridge has proven to be one of those popular happenings, and it should surprise few seekers of outdoor sparkle and magical lanterns that tickets for the among-the-trees to-do will soon be available for purchase.
Very soon, in the case of the Preview Party: Tickets for the Saturday, Nov. 17 celebration go on sale on Tuesday, Sept. 4.
If you purchase a Preview Party ticket, you'll be one of the first people to experience the 2018 event, which includes a host of special lighting displays throughout the historic gardens.
These aren't your, er, garden-variety displays, however; think incandescent artworks, and bright obelisks, and glowing tulips, and so much more.
It has more than earned its "Enchanted" handle, which is why the Preview Party will surely reach capacity sooner than you can say "but it is only September."
A ticket is $125, and that "... includes Golden Road Brewing beers, Cardinal Rule wines, and a scrumptious feast from Patina Restaurant Group."
Other party-perfect details will lend the shimmery evening more shimmer and sound, courtesy of the DJ-helmed tunes.
So, again... The holidays? Not nearly here.
The time to buy tickets for holiday events? Here and getting nearer.
And if you prefer to look beyond the Preview Party, to one of the other nights of "Enchanted: Forest of Light," your chance to buy a ticket is coming right up: The member presale is on Oct. 1 while general public tickets will be available on Oct. 15.
Copyright FREEL - NBC Local Media