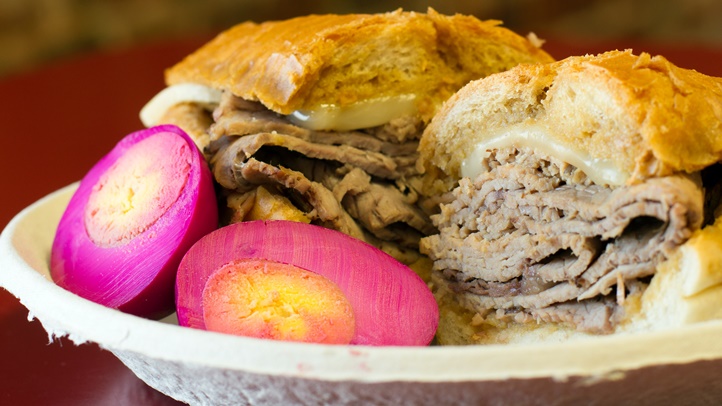 What to Know
Monday, Oct. 1
4 to 8 p.m.
Raffles, entertainment, and giveaways are part of the fun
The first of October?
It's when the last fourth of the year kicks off. It's the day when those who decorate for Halloween feel as though they can truly dig the plastic ghosts and paper bats out of the trunk in the attic.
And, in 2018, it is quite the momentous, history-honoring celebration for Philippe the Original, which will be marking its 110th anniversary with a mondo 'n meaty give-back bash for fans.
The Scene
What to do, where to go and what to see
How fan-oriented will the Monday, Oct. 1 party be?
Consider that the famous French Dip, the sandwich that the Union Station-close eatery is known far/wide for, will be priced at $1.10.
One hundred and ten years, a buck and a dime for a French Dip... you get it.
That low-low-low price'll be available from 4 to 8 o'clock on Oct. 1, so best put that in your cuisine-themed calender pronto. And, yes, prepare to queue up, for a restaurant that's been around for a century and a decade has earned some fans.
Perhaps you and your line co-standers can talk about Philippe Mathieu, the legendary proprietor who "dropped a sliced French roll into (a) roasting pan filled with juice still hot from the oven," creating the meaty meal we know today.
At that auspicious moment, which occurred back in 1918, the centuries-old story of sandwich-perfection took a turn for the terrific, historians would surely agree.
Other happenings will up the flavor of the Oct. 1 festivity, including "... live entertainment, raffles, games," plus those coveted giveaways. Prepare for plenty of party-riffic vibes, in short, to fill out the four-hour festivity.
So, you bet: There'll be plenty to see and enjoy while you hang out in line.
And once you finally reach the famous Philippe's counter?
The one with the glass case, which makes it easy to see the potato salads and macaroni salads and other hearty sides and treats whipped up by the talented kitchen crew?
You can ask that your French Dip be beef, pork, ham, or turkey. Your au jus, as Philippe's fans well know, will be soaked into the bread. And if you want a pastrami or lamb version of the sandwich? That's extra, as is cheese.
Happy 110th, Philippe the Original! May you keep on dippin' for another 110, and another, and another...
Copyright FREEL - NBC Local Media