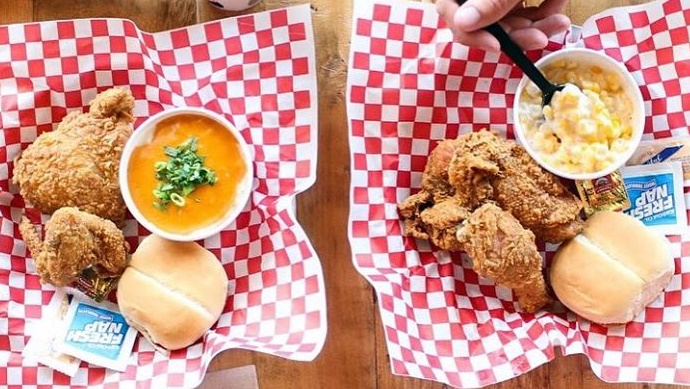 While fried chicken is high up in the American pantheon of classic dishes — picnics, Sunday dinners, every-other-night dinners, and potlucks would seem unlike themselves without it — it did, for years, remain fairly consistent in form and theme.
No longer, though, as fans of the succulent supper know. Gourmet fried chicken sandwiches, with their plentiful and piquant toppings, are really just the beginning of the today's-fried-chicken topic, a topic that also covers fried chicken paired with a host of offbeat sides, fried chicken's delicious cameo in Mexican favorites, and several other fried chicken stylings not seen on tables even a couple of decades ago.
Smorgasburg LA will celebrate this crispy creativity on Sunday, Sept. 24 at Fried Chicken Day. The ROW DTLA event, which includes a line-up of buzzed-about vendors selling savory-to-desserty delectables, will give a special spotlight to those Smorgasburg LAers who create fried chicken meals that are beyond memorable.
The Scene
What to do, where to go and what to see
Among the fried chicken offerings for Fried Chicken Day? The big Taiwanese fried chicken in a bag from Hot star us, Nashville Hot southern fried chicken from Rooster Republic, and a Hong Kong-style fried chicken sandwich from Bolo, one that comes with a "pineapple-topped butter bun."
And what's that from Baldoria DTLA? It's a fried chicken and waffle cone. Yes, cone. We'll say it again: cone.
Entering Smorgasburg LA is free, but, yes and absolutely and for sure, show with money so you can chow down on a wide and whimsical range of foodstuffs. The hours are 10 a.m. to 4 o'clock.
Copyright FREEL - NBC Local Media