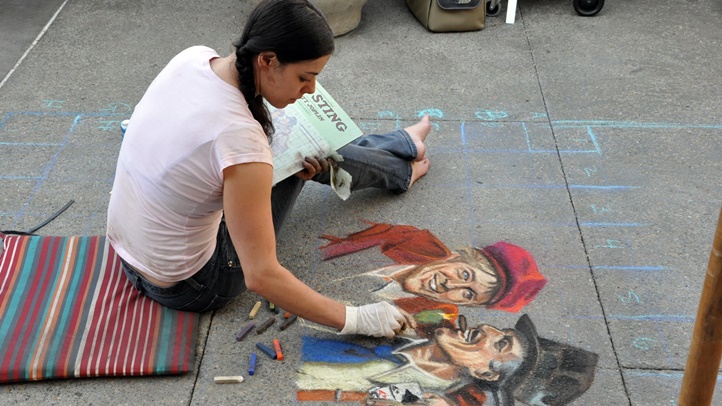 If you called upon the colossal, well-known, and highly hue-bright Pasadena Chalk Festival in 2016, you may have made the commitment, then and there, to practice your own chalk/sidewalk illustrations before the 2017 festival arrived.
And... you may have been thwarted, by all of those wintry rainy days we had, as water and chalk tend not to mix. But no worries: As is tradition, the Paseo Colorado extravaganza, which is free, will once again take place on over one very warm, sunshine-laden weekend.
That weekend, as is also tradition, includes Father's Day, making the walk-around-and-admire to-do an event that many Southern California families include in their holiday celebrations. Of course, it isn't just about looking down, and around, at all of the artistry on the ground below, but also taking part in the numerous activities that surround the busy artists.
The Scene
What to do, where to go and what to see
There's the Children's Chalkland, which'll be focused on the creation of fun Father's Day cards, as well as face painting. There's the 15th annual Pasadena Police Classic Car Show, on Sunday, June 18, from 10 a.m. through 3 o'clock (it's a fundraiser for a few organizations, including Peace Over Violence).
And there's an art gallery and silent auction, too, if that's your jam.
The June 17 and 18 happening marks the 25th annual Pasadena Chalk Festival, meaning there are bunches of past artworks to look back upon. And the Pasadena Museum of History, which is a short drive from Paseo Colorado, is spotlighting oodles of bygone chalk masterpieces, and the festival as a whole, in the "Art in the Street: 25 Years of the Pasadena Chalk Festival" exhibit.
That show is still ongoing, through Aug. 13, 2017, so think about visiting both the museum, for a glance back at the festival, and then calling upon the festival itself, to see what's going down, on the ground, in real time, as the 2017 artists put color to concrete, one stroke at a time.
Copyright FREEL - NBC Local Media