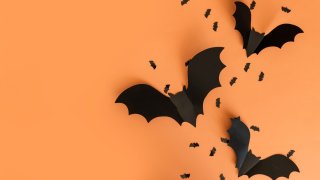 What to Know
Saturday, Aug. 7 from 3-8 p.m. and Sunday, Aug. 8 from 3 to 7 p.m.
$10; advance tickets available online
The gallery will feature a "Monster Peepshow" exhibit by Chris Thomes as well as several spooky vendors behind the building
August is August, and October is October, and comparing the excellent qualities of the two separated-by-September months seems like a fine way to wile away five or so minutes, if you're inclined to be intrigued by monthly matters.
But sometimes? Month-based mash-ups can and do occur, with one of the most prominent being Augtober.
What's Augtober?
It's officially August with a playful layering of October-type pleasures. Think of it as the time when Halloween items begin to materialize on store shelves and pumpkin spice goodies debut on coffeehouse menus.
And if you're already in an Augtober state of mind, best swirl your vampire cape dramatically over one shoulder and fly for South Pasadena for a merry Monster Pop-up.
For SugarMynt Gallery, "where every day is Halloween," is helming a weekend-long exhibit and vendor market devoted to monstrous themes, from vampires to werewolves to Frankenstein (or, yes, we know, Frankenstein's monster).
Inside the charming space, which sits directly behind the Michael Myers house, seen in the 1978 film "Halloween"?
Look for "an interactive Classic Monster art installation exhibit 'Monster Peepshow' by Chris Thomes," a creatively creepy presentation sure to jump-start the jumps and startles associated with eerie season.
Outside the gallery?
There shall be a cadre of vendors selling all sorts of Halloween-ready items, finds, and such. Wearables, artworks, dastardly doodads, and more will be on the terrifying tables.
The cost is $10 on either Saturday or Sunday afternoon, you'll want to remember your mask, and tickets are available online.
And coming right up at SugarMynt Gallery, in but a few frightful weeks?
The return of the gallery's popular Haddonfield-themed exhibit, an annual tribute to the world of John Carpenter's "Halloween" which was filmed, in large part, around the neighborhood where SugarMynt is located.