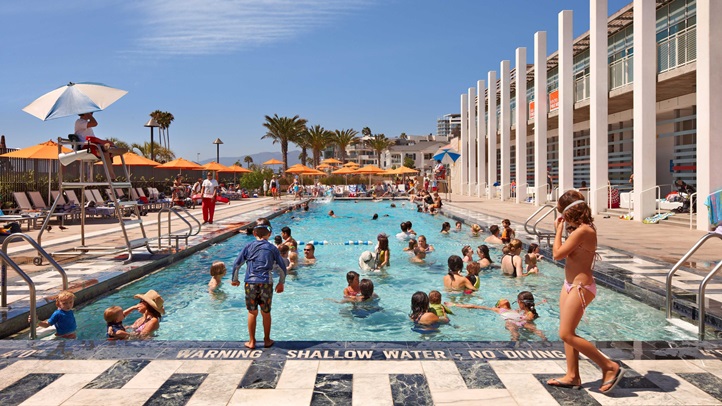 Who has El Niño's phone number? Email address? Can someone private message the famous weather event via Facebook or Tumblr?
After an umbrella-testing pummeling in early January, and some solids rains near the end of the month, the forecast is looking mighty warm and dry leading into Valentine's Week. El Niño shall return, is the general word, and as we await the next slosher we might as well all done our swimsuits and wade into the nearest available pool.
February and blue shimmery wet spots aren't a natural pairing, but the Annenberg Community Beach House will play matchmaker, for a day, on Sunday, Feb. 7.
The Scene
What to do, where to go and what to see
Meaning? Something summery is landing in winter, in the form of a Pop-Up Pool Day. The historic property, which was once home to actress Marion Davies, will throw the doors open on its splashy attraction, for the get-in fee of ten bucks.
That's ten bucks per adult, though seniors pay five dollars and youths from age 1 to 17 have a four-dollar admission. No reservations are possible, which translates into one thing: You've got to show on the early side, when passes first are sold.
That "early side" is 9:30 a.m. -- some might quibble if that is truly early for a Sunday, so, yeah, quibble away, if that's your jam -- and the pool will get busy in the heat of the afternoon, if not earlier. "The heat of the afternoon," by the by, will hit the mid-80s, or so, as of this typing.
February, you are wearing some serious July-style plumage.
Which makes us wish for damper days after this next heat streak. True, a winter run of high-temp days has been pretty typical in recent years, but our wetter January had us believing that trips to the pool were way down the road.
As long as we're all in tanks and shorts, we might as well find a beach, or a pool, to keep cool, and it is mighty nice of the Annenberg Community Beach House to open up right when they know people would like a refreshing dip.
Meanwhile, someone see if El Niño is on Facebook or has an email that's being regularly checked.
Copyright FREEL - NBC Local Media