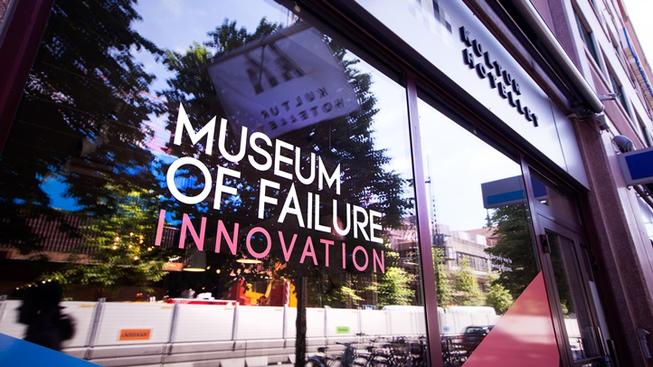 Museum of Failure: If something fails to fail, is it a true failure? Or is the notion of failure so threaded through with now-and-then successes that a thing about failure may just thrive? Ponder these questions as you head for Hollywood & Highland to see an exhibit that was formerly in downtown LA for a couple of months. It's doing well, and now will continue in Tinseltown, where it will still spotlight products that famously didn't catch on such as the Apple Newton and Bic for Her. It won't fail to open on Thursday, March 8.
Block Party Kick-off Event: So you dig theater, and you love supporting local talent, and you've like being in the dramatic and fun swirl? Best attend a free event at the Kirk Douglas Theatre on Wednesday, March 7 at 7 o'clock. It's all to "... celebrate the remounting of three local productions from Celebration Theatre, Critical Mass Performance Group, and Playwrights' Arena. You'll want to RSVP, right here, if you want to join the Center Theatre Group's ebullient evening.
March Market Madness: You like shopping at one of our city's most historic and foodful destinations, The Original Farmers Market at Third & Fairfax. You also love scoring deals, too. How to dribble forward? Visit the landmark in the evening, Monday through Thursday, from March 5 through 29, for fantastic grocery specials, dining deals, and more goodness. What will save on this week? Cookies, poultry, nut butters, and Atlantic salmon filets, just to start with, oh yeah. And don't forget to enter to possibly win a $250 shopping spree.
The Scene
What to do, where to go and what to see
Cherry Blossom Walks: One glance around you, or at least down the block or a few streets over, will tell you what you likely already know: Early March is truly delivering on the cherry blossom front. If you'd like to know more about these wondrous trees, and these gorgeous flowers, and you'd find a docent-led talk quite beneficial, make for Descanso Gardens any weekday through March 10 to learn more. Your admission to the La Cañada Flintridge destination is all you need to pay to join this nature-lovely walk.
Great LA River Cleanup: Registration just opened for the multi-Saturday volunteer effort, so sign up now for the April date, or dates, of your choice. April 14, 21, and 28 are the dates, and each date is paired with a few places along our epic urban waterway. So decide if you'd like to roll up your sleeves and de-litter the Glendale Narrows Riverwalk, Willow Street Estuary, or more spots up and down the banks of the LA River. Details on joining this huge and important effort? Here.
Copyright FREEL - NBC Local Media