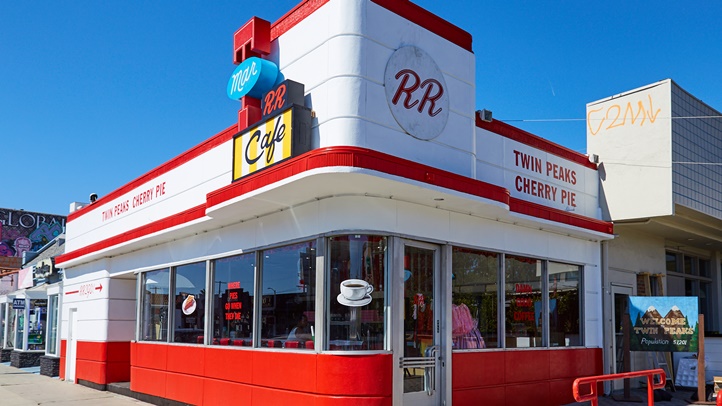 Different dimensions, duplicitous doppelgängers, and delicious cherry pie?
Those are just some of the things an obsessed viewer could count on seeing in "Twin Peaks," the early 1990s ABC phenomenon that returned, for 18 atmospheric episodes, to Showtime in 2017.
But lookalikes and weird worlds weren't the only things that a fan knew they'd encounter while dipping into the singular, surreal world created by David Lynch and Mark Frost.
The Scene
What to do, where to go and what to see
One other certainty? Once a mysterious doorway to another dimension shimmered into view, it wouldn't be around for long.
Such is the exact case with the strange dimension that's suddenly appeared at 7505 Melrose Avenue. It's the Double R Diner, a main setting for the supernatural mystery series, and it will only be open from Monday, Oct. 16 through Sunday, Oct. 22 from noon to 8 each day.
What's inside the "Twin Peaks" Halloween pop-up? Merchandise related to the atmospheric TV phenomenon, like Double R baseball caps, coffee mugs that read "Damn Good Joe," and David Lynch Signature Cup Coffee.
Yummy-looking "Twin Peaks"-themed macarons are available as well, and they're as red as a billowing red curtain from the Black Lodge. Look also for Great Northern keychains and dapper socks that bring to mind a certain chevron zig-zaggy floor.
Costumes recalling various characters from the series will also cameo in the diner, in case you want to give your Halloween outfit a little Lynchian polish.
"Twin Peaks" made a pop-up appearance at South by Southwest in the spring of 2017, an event that drew devotees of Agent Dale Cooper, Audrey Horne, and Laura Palmer to Texas. (Coincidentally, a state that appears in the revival series, which moved beyond the original run's Washington State base.)
Austin wasn't the final stop for this shimmer-into-brief-existence dimensional sphere, though: Melrose Avenue is up next, for seven days, so slip into your bobby socks and your saddle shoes and dance, dreamily, for the "Twin Peaks" diner.
Meanwhile...
Copyright FREEL - NBC Local Media