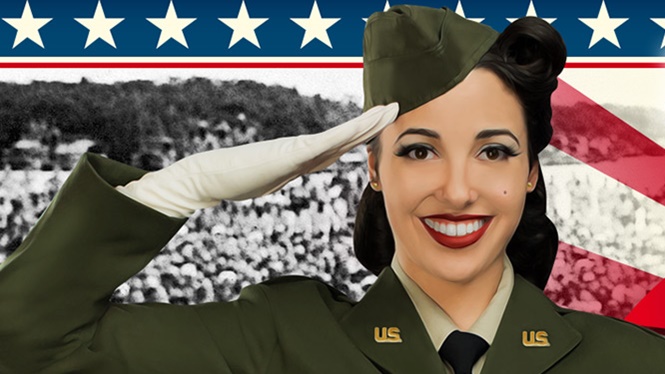 Fourth Festivities (Before the Fourth): It's true that Tuesday, July 4 will sparkle with fireworks, but there are a few spots you can go to honor the occasion over the preceding weekend. A USO-style show, complete with vintage costumes and songs, will unfurl with pomp at Clifton's Republic downtown on Sunday, July 2. The name? It's the Clifton's Canteen. Benjamin Franklin, John Adams, and Thomas Jefferson will call upon The International Printing Museum on July 1, while the Four Seasons LA at Beverly Hills and Pink's Hot Dogs are teaming up for a Fourth bash at the hotel's Windows Lounge on July 1 and 2.
Anime Expo: A Celebration of Japanese Pop Culture: The four-day festival traditionally lands around the start of July at the Los Angeles Convention Center, and 2017 will adhere to that, so best brush up on your favorite manga artists and don the most elaborate cosplay-ready costume you have for the "largest anime and manga convention in North America." K-Pop Dance Battles, a Masquerade, all sorts of cosplay opportunities, and the artists, writers, and creators of fan favorites'll be in the house for the mega meet-up. July 1 through 4 are your dates.
626 Night Market: You adore vittles of all sorts, foods with global cool and panache, and you like to enjoy them after the sun takes its final, dramatic bow for the day. Also? Strolling by booth after deliciously fragrant booth, choosing whether you'll enjoy pork buns or ramen or noodles or all of the above, is part of the whole good-to-the-tum experience. You dig? Then be at Santa Anita Park in Arcadia from June 30 through July 2 for this top-notch, mondo-meal'd extravaganza of Asian and world flavors.
The Scene
What to do, where to go and what to see
Old Pasadena Summer Cinema opens: Prepare to jump into the "largest free open-air film festival in California," and prepare to settle in, with your blanket and chair, at One Colorado Courtyard or Central Park, depending where the movie you want to see happens to be screening. "The Sting," "Jurassic Park," and "Remember the Titans" are three of the flicks on the July 1 to 29 schedule, so eye it all before going. There are some special indoor movies, too, and a $10 walking tour of local locations used in "The Sting."
The Proud Bird reopens: So the LAX-close restaurant was a weekend go-to for your family since the late 1960s? And your kin especially enjoyed looking around at the aviation displays and at the real planes overhead in mid-landing? Let your heart take flight, for the landmark restaurant returns after a major renovation with a new Food Bazaar and perfect outdoor patio seating (the better to watch those flying machines above). Opening weekend is just ahead, but look into reservations before you go, as the eatery is observing limited hours.
Copyright FREEL - NBC Local Media