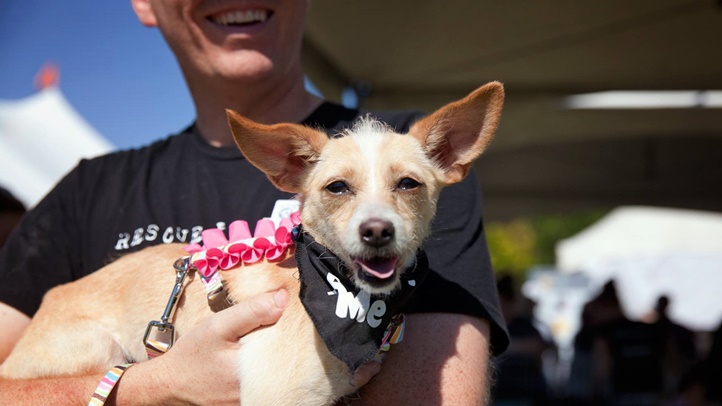 NKLA Super Adoption: How many pups and kitties can you cuddle over two full weekend days? If you really give it time? Well, pull out the calculator, because this might be tricky to compute: "More than 1,000 adoptable dogs and cats" will be at Warner Park in Woodland Hills on Saturday, June 3 and Sunday, June 4, and all are ready for your home, your bed, some fresh food and water bowls, and forever love. Food trucks'll be out, too, as well as a slew of animal-themed vendors and purveyors.
Gilmore Heritage Auto Show: If you're at the Original Farmers Market on Third & Fairfax on the first Saturday in June, whatever the year on the calendar happens to be, you're very likely strolling among gleaming dream machines. It's a free-entry car spectacular, one brimming with beautiful, well-cared-for vehicles. The theme in 2017? It's 1957 cars, oh yeah. Make for the mid-city on Saturday, June 3.
Join In, Give Back: Two huge-hearted happenings are raising money, spirits, and the general vibe over the weekend, with We Run the Grove alighting on Sunday, June 4 (the beneficiary is the Race to Erase MS). Tunes and other nice additions are part of the day out. And in Malibu? Surfers Healing will again host a one-day camp devoted to teaching children with autism how to ride the waves. It's free, over 225 families'll take part in the convivial good time, and it all happens on Saturday, June 3.
The Scene
What to do, where to go and what to see
Tustin Street Fair & Chili Cook-Off: True story: Chili can be made in hundreds of different ways, though even that number might be on the low side. With this in mind, it isn't surprising that chili showdowns not only endure, but thrive, including this one, which is truly one of the biggies. The fair side of things is full of craft booths and wine & beer booths and music and stuff for kids to do. It's rounding off the first weekend in June, on Sunday, June 4.
Los Angeles Bread Festival: Just about any slice or hunk or heel is going to make an eater happy, whether it is fancy stuff or plain stuff or buttered stuff or something outside of those three choices. But artisanal rounds, and elegant jams, and the people around our region who bake to perfection? That's too tempting. Make for Grand Central Market on Saturday, June 3 and Sunday, June 4 for demos (they're free, but do register) and other breadly goings-on. Bring bread-buying money, for many bakers'll be there with loaves to sell.
Copyright FREEL - NBC Local Media