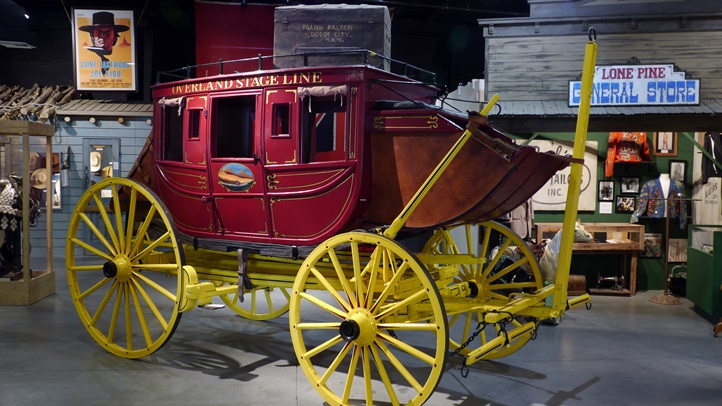 THERE'S NO DOUBT ABOUT IT: A bounty of cinematic history lives in and around Los Angeles, with museums, movie studios, movie ranches, and a plethora of locations adding dimension and interest to moviemaking's rich and vast biography. But to truly expand the tale of moviemakery, and deepen the Western side of the cinematic family tree, one would need to drive about four or so hours north, to the Eastern Sierra and the lovely town of Lone Pine.
LONE PINE... has seen movie crew after movie crew come through over the decades, and with excellent reason: The area's epic environs, particularly Mt. Whitney in the background, the knobby, intergalactic-like Alabama Hills, and nearby Death Valley, regularly draw those filmmakers looking for a certain look that stands out and says "Old West" in a single shot. Hundreds of Westerns have been filmed in the region, and The Museum of Western Film History in Lone Pine serves as a nexus for those who want to know more, and see more, which they can do thanks to an amazing line-up of props, costumes, and artifacts. And the biggest happening on the museum's calendar? It's the...
LONE PINE FILM FESTIVAL, which will once again gallop into frame in early October. The 2017 dates are Friday, Oct. 6 through Sunday, Oct. 8, and "How Westerns Shaped the American Experience" is the focus. A panel devoted to director John Ford and actor John Wayne is on the schedule, and over 16 classic Westerns will be screened, too. A talk about what being a stunt person entails will also add exciting flavor, and a series of tours will take fans by some of those aforementioned landscapes, the ones that are so big-of-sky and big-of-spirit. Tickets, details, more? Lasso all you need to know here. As for the chance to toodle through the Alabama Hills on a fine fall day? You may feel like a movie star, thanks to the specialness of that particularly inspirational experience. See them, if you haven't, and if you love Westerns, make a date with Lone Pine soon.
Copyright FREEL - NBC Local Media