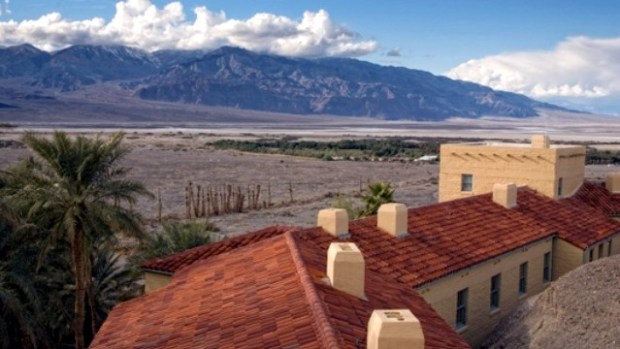 Inn at Furnace Creek
The Inn at Furnace Creek reopens every fall for the winter season; it is located in Death Valley.
HOT STUFF: We may never get to travel to the moon for vacation -- fingers crossed, though, there's some big announcement in our lifetime regarding that -- but there is a next best thing: an overnight stay in Death Valley. Specifically at the Inn at Furnace Creek. If you've been to the historic hotel, which opened in 1927, you know what we mean, at least somewhat; gazing out from its picture-pretty front window, across the one of the lowest spots on earth toward the startling and austere Panamint Mountains, you can get to feeling very lunar. In the best way, we'll add; you're not on the moon but rather in the swank Inn at Furnace Creek, which has a lovely bar and restaurant and pool (a pool on the moon might be a tad complicated). And while its moon-like beauty and its 85-year history lend much loveliness to the property, there's another factoid that makes us sweet on the place: It closes every year for the hot months.
OCTOBER OPEN: Now, usually we wouldn't want a place we like to be unavailable for a good chunk of the year, but there's something charming and a tad old-fashioned about that. And it makes one anticipate the autumn re-opening all the more. And, indeed, the Inn just reopened for another season on Thursday, Oct. 25; the inn's season will stretch, as is tradition, into the middle of spring. Question one: Is it summer hot in Death Valley in the wintertime? Nope, it can get very cold, especially at night (when it can feel slightly moon-like). Question two: Is there lots to do? Yep. Biking and golfing and sightseeing around some of the nearby borax-type sights. Welcome back, Inn at Furnace Creek. It's true that some hotels close for snow during the winter, but you're one of the few resorts around to shutter during the summer. It's a tradition that seems perfectly quaint to us, so don't ever change.