worth the drive
A Very Santa Cruz Summer
The beach boardwalk brims with movies, concerts, and more.
Tuesday, Jun 3, 2014 • Updated 12:40 PM PDT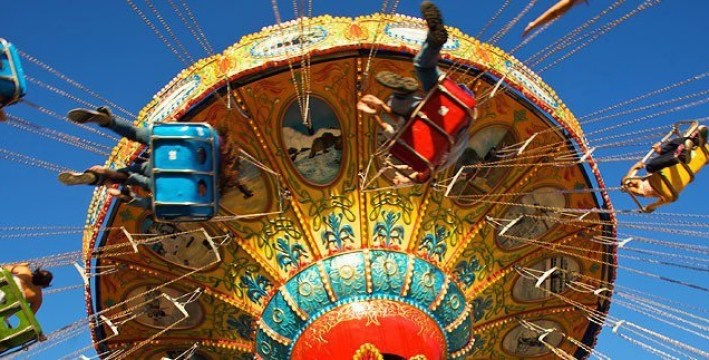 Santa Cruz Beach Boardwalk
Santa Cruz's Beach Boardwalk is now in full, festive, summer's-comin' gear.
ETERNAL AND ALL THAT: The rather charming thing about the beach, all beaches, for the most part, is they've been around for a long time and will continue to keep on that course, fingers crossed. That means that waves were doing their crashing thing well before you arrived on this planet, and they'll be crashing centuries from now, and seaweed and shells and tiny crabs'll be doing that thing they do where they festoon and frolic along the sand in all the enchanting, ocean-interesting ways. But while beaches are timeless, what goes down next to them tend to be pretty of the moment, and this is true most definitely where our amusement destinations are concerned. It makes for an exciting duo -- timeless ocean + passing boardwalk pleasures -- and few places have capitalized upon that excitement better than the Santa Cruz Beach Boardwalk. Yep, yep, the salty stretch boasts none other than The Giant Dipper, the boardwalk's legendary wooden roller coaster, and, indeed, the Dipper just celebrated its 90th birthday in the middle of May. But there are more fun timez to come in the summer of '14, in terms of to-dos. For sure, you can walk down to the water and commune with the ages, or you can keep tabs on the boardwalk's busy day-to-day summer schedule, which will include...
SEASON PASSES: You know you're in for a sunny summer of good-time-having if you've committed to buying a pass to the boardwalk, which gives you unlimited rides. ("Unlimited" is a nice word that pairs well with the hugeness of the nearby ocean, now that we think about it.) Free Friday night concerts and free movies on the beach are warm-weather staples (Smash Mouth is set to play the opener on June 13). And will 1987's "The Lost Boys" again screen, as it should, since the film used the boardwalk as a setting? It shall, on June 25. Want more on the carousel-y, Pacific-close high jinx? Swim this way, summer lovers.
Copyright NBC Owned Television Stations