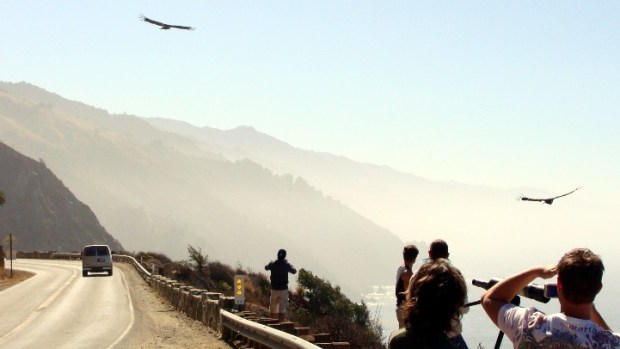 Ventana Wildlife Society
Take a California Condor Viewing Tour with the Ventana Wildlife Society.
SOARING HIGH: A trip to the Big Sur-area coast to catch a glimpse of the fabled and fabulous condor? We have a feeling this idea might spring straight from most people's "once in a lifetime chance" file. But a condor encounter doesn't have to be that exclusive (read: that put-off-able). Tours to see the rare and lovely birds in flight are going on twice a month. Let us add to that statement, actually. Twice-a-month tours have now resumed, now that the closed section of Highway One near Big Sur has reopened. (A section slid ocean-ward in March, you'll recall.)
THE DETAILS: Ventana Wildlife Society organizes the tours, which happen on the second and fourth Sunday of each month. A tour is $50, and signing up in advance is key. If you're wondering how the wingspan'd wonders are found, "radio telemetry" is employed. Interesting. There's also a Base Camp Tour which runs $250 per person; it's a bit more involved, and longer than the two-hour outing listed above (the Base Camp option is a pretty full day, actually). Either way, picture it: you, the condors, Big Sur. Once-in-a-life-y for sure, but those once-in-a-life moments have to arrive some time, right? Sooner than later is our policy.