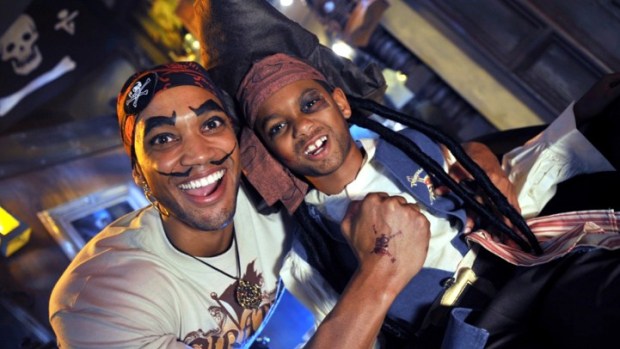 Disneyland
The Pirate League opens at Disneyland on Saturday, Sept. 1.
PRINCESS TO PIRATE: The shiny ringlets are perfect curled. The tiara is perfectly set. And the dress? It's all sparkle and glitter and color and dazzle. We're talking about the Disney Princess here, of course; "tiara" and "sparkle" were perhaps the obvious giveaways. She's such the mythical character that little girls and their grown-ups regularly visit Disneyland's Bibbidi Bobbidi Boutique to be transformed into Belle or Cinderella, complete with hair curls and ribbons. And seeing the wee royalty bop around the park? It's is one of the fun parts of a Disneyland day, though perhaps you've thought to yourself, as we have, this question: "Where can I go to become a pirate?" That question has now been answered: The Pirates League. The new "interactive pirate experience," which will be located in New Orleans Square, natch, will "transform guests, giving them their own pirate look and name." Arrrr! Wait -- can "arrrr" be part of our pirate name?
SEPTEMBER 1: The new Captain Jack-esque venue makes its swashbuckling debut on the Saturday of Labor Day weekend and "guests ages three and up" can get the pirate makeover. A preschooler in a tri-cornered hat and faux mustache? Parents, have the cameras at the ready. For more info on the upcoming Pirates League, and a special pirates oath that makeover candidates will be taught, check out the Disneyland blog.