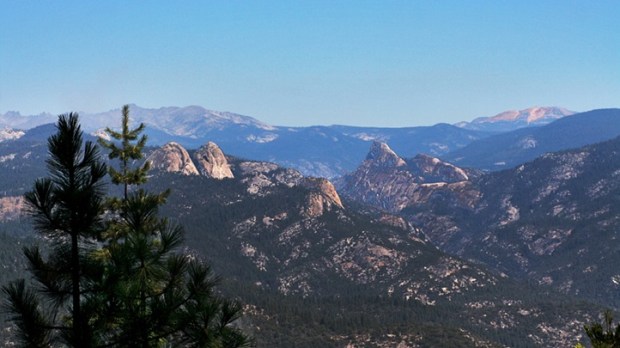 Yosemite Sierra Visitors Bureau
Take a different look at our state's epic mountain range on the Sierra Vista Scenic Byway.
ALL IN THE TIMING: How do you know it is May? Not by the thermometer or the swimwear commercials or even the calendar on your wall. Rather, it is from all the articles discussing your summertime road trip. The summertime road trip is an American classic, for sure, and we'd never cock an eyebrow in its direction. Still, it seems to us that the time for a slow road trip -- we're talking the kind of drive where you're taking in the nature and the towns and the scenery -- is when a lot of people have left the roads. That time is generally thought to be fall, when the warmer weather is wrapping but the inclement weather (yep, even the Golden State gets it) hasn't yet arrived. So do you know California's best scenic byways, or even those that aren't known so far and wide? One of the prettiest happens to wend for a hundred miles into our state's most mega mountain range. It's the Sierra Vista Scenic Byway, and early fall is a plum time to see it.
WHAT'S ON THE MAP: We can all cover a hundred miles of any freeway in a respectable (and law-abiding) amount of time, but how about a hundred miles of turny, looky, pretty mountain road? This is an all-dayer, in our books, so plan accordingly. The map has you start at North Fork, just a bit southeast of Bass Lake. You'll then pass the Exact Center of California -- yeah, you need a picture there -- Mile High Overlook, Arch Rock, and Cold Springs. Call it a wonder-nice cavalcade of photo-ready sights, sights that are Yosemite-ish in proximity and feel but not often as seen or admired. Shouldn't we give a little love to the places outside of the park? Call it easing up on the traffic if you like, but we'll think of it as discovering fresh treasures along the Sierra Vista Scenic Byway. The Forest Service has a handy map of the byway. Happy toodling, Sierra-ists!