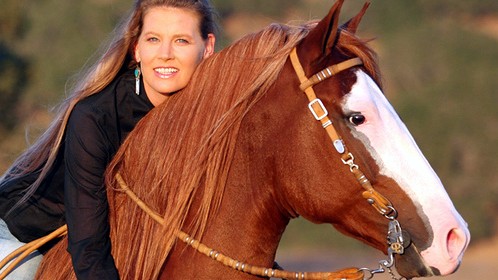 Los Amigos Peruvian Paso Club
Charlotte Becerra and her stallion *MRM Cara Pintada. Meet many pretty horses on the Santa Ynez Valley Peruvian Horse Ranch Tour on Aug. 6 and 7, 2011.
PERFECT TIMING: A lot of visitors will be making for Santa Barbara over the Aug. 6-7 weekend for Old Spanish Days. It isn't much of a stretch to say most if not all of those visitors are horse fans; Old Spanish Days spotlights steeds aplenty throughout the festival. And while the venerable celebration has been around for the better part of a century, a mane-sweet first is happening not too far from Santa Barbara, and it also might interest those who love all things equestrian. The Santa Ynez Valley Peruvian Horse Ranches are opening up for their first ever weekend of tours.
NEIGH ALL THE WAY: Several Santa Ynez ranches will be participating; Rancho Chahuchu, RB Horses, Phenom Farms, Rancho de la Florecita, and D Ranch are all on the roster. You'll want to get specific times and days for each, and you'll want to let the organizers you'll be there; RSVPing is requested. (This helpful pdf has good info; we'd click it.) Oh, and the price? Free. But definitely RSVP, the better to keep your spot.