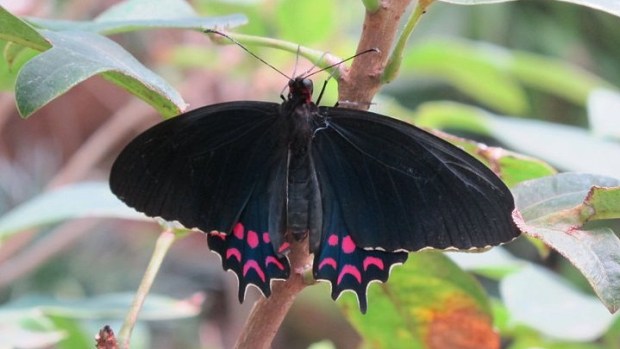 San Diego Zoo Safari Park
Admire 30 species of butterflies when Butterfly Jungle makes its seasonal debut at San Diego Zoo Safari Park. Opening date is Saturday, April 5.
STAND-INS FOR THE SEASON: If you were given a box of crayons and a sheet of construction pair, and told to draw the symbols of springtime or warm weather, what would you draw? Well, it depends on how well you draw, we suppose -- you could go for something quite complicated, like the intricate buds of a cherry blossom tree in full bloom -- but we imagine you'd probably draw a bunny and a flower and maybe an egg and probably a butterfly. The butterfly, of course, is just one of those instantly recognizable springtime representatives, so much so that you know it even if you see it depicted in crayon, a simple thin body and two large wings. So getting that instant dose of springy-time-ness, butterfly-style, is a fine and festive way to summon the season of gentle breezes and sun all at once. Thank goodness, then, that a number of butterfly attractions pop up around Southern California, and one of the first? It's Butterfly Jungle at the San Diego Zoo Safari Park. The opening date isn't too far off, springians: It's Saturday, April 5.
30 SPECIES OF WONDER: Dear butterflies everywhere? We're jealous of your names. Because check out some of the stars of Butterfly Jungle: the blue morpho, the orange-barred tiger, and the zebra longwing. Pure romance, and that's even before seeing them. Some 15 species of birds'll be in the jungle, too, adding to the flight-sweet scene. And will there be an educator nearby, ready to talk about the insects' origin points (Asia, Central America, Africa, South America) and curious quirks? You'll get to know bunches about butterflies before you leave. Cost is part of your admission to Safari Park, and figure that once you leave the flitty scene, well, you're in Safari Park. A fine spring day out, in nature, for sure.