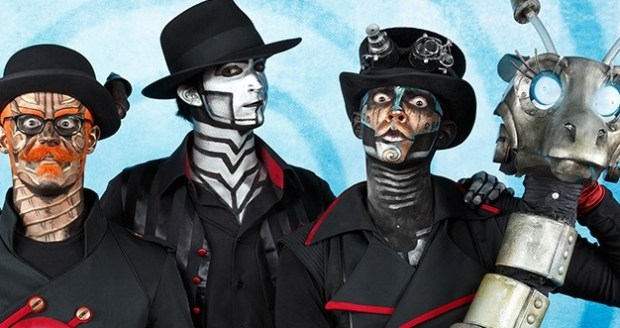 HRM Steampunk
It's all steampunk all the time at the Queen Mary from Friday, Jan. 10 through Sunday, Jan. 12. Have your Victorian fantasy wear ready, revelers?
HONESTLY? Honestly. If you ever see a film with steampunk elements to it -- the gleamy brass details and the deep dark woods and the nautical structures -- you just have to think, "well, the set designers clearly have been on an older oceanliner, prooooobably the Queen Mary." Because while we call the famous forever-in-Long-Beach ship Art Deco -- as it indeed is -- let's be honest: The lively spirit of steampunkery fizzes in all of its bells, decks, and stacks. Art Deco and steampunk are across-the-decades cousins, of course, at least in the design sense, so when a steampunk convention makes for the Queen Mary, we say that makes total sense. Her Royal Majesty's Steampunk Symposium marks the fantasy Victorian and Edwardian age with three days of talks, costumes, tinkering, cog-love, and other haps that are very much about dashing style, outlandish wonder, and historically grounded whimsy.
DATES AND DETAILS: The top-hatted, hoop-skirted merrymakers'll descend upon the ship on Friday, Jan. 10 and stay there, living La Vida Steampunkeria, through Sunday, Jan. 12. Murder mysteries, invention-makery, brainy entertainments of the enjoyment-taking sort, scavenger hunts, and, of course, some haunted haps -- this is the QM, after all -- will fill out the three-day fete. Vendors selling leather articles and brass articles and corsets and goggles and suchery will be vending in the way that they do. As for tickets? You can't get 'em online, as of this point, but you can on the ship. Bustle up, old-timey adventurers, and fly your trapezes to Long Beach.