Farewell, Flowerpot Munchkin
"The Wizard of Oz" actor Margaret Pellegrini passes away at age 89.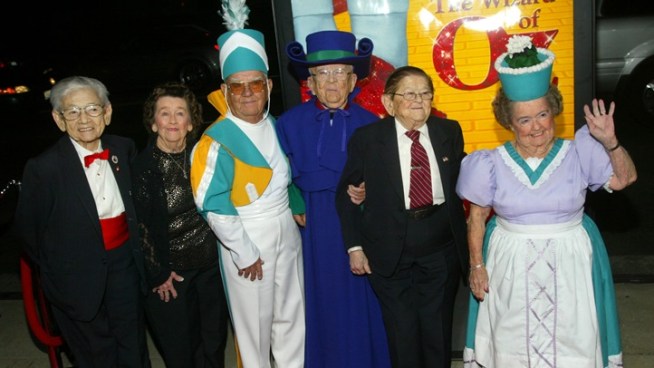 Getty Images
Margaret Pellegrini, pictured at right, and her fellow "The Wizard of Oz" actors arrive for a gala screening marking the movie classic's 50th anniversary at the Academy of Motion Picture Arts and Sciences Samuel Goldwyn Theatre October 19, 2005 in Beverly Hills, California. Ms. Pellegrini died on Wednesday, Aug. 7. (Photo by Matthew Simmons/Getty Images)
It's a tribute to the timelessness of a certain yellow-brick-road-laden movie that we remember certain characters by their whimsical attributes. Remember well, even though 74 years have passed since "The Wizard of Oz" premiered in August of 1939.
One of those characters is the Flowerpot Munchkin. You remember the effervescent young teen dancing with a flowerpot perched atop her head during Dorothy's visit to Munchkin City? Of course you do; that young woman, Margaret Pellegrini, became one of the sweet icons of an iconic film.
Her fame extended beyond the film, too: Ms. Pellegrini, along with many of her fellow "Wizard" actors, represented moviedom's most famous film on numerous occasions at screenings and awards nights.
She often wore a costume, complete with that sweet flowerpot.
So the news that the actor suffered a stroke at her Glendale home on Monday, Aug. 5 is a bittersweet one. Bittersweet on a few levels: she was often described as "one of the last surviving Munchkins," a close-knit group that often appeared together in honor of their sparkly cinema classic.
Ms. Pellegrini was 89 years old when she died Wednesday.
TCL Chinese Theatre dimmed its forecourt lights for a minute at 9 p.m. on Aug. 7 to pay tribute to the actor. "The Wizard of Oz" premiered at the Chinese Theatre and Judy Garland's cement handprints are a popular stop in the much-visited forecourt.
Ms. Pellegrini passed away in Phoenix, but Southern California fans have found a local spot to pay tribute. "Wizard" buffs have begun to leave flowers -- a perfect and moving tribute -- at the Munchkins' star, which aptly sits in front of the Chinese Theatre.
Find the star at 6915 Hollywood Blvd.