"Blessed Rain Possibilities" in the Forecast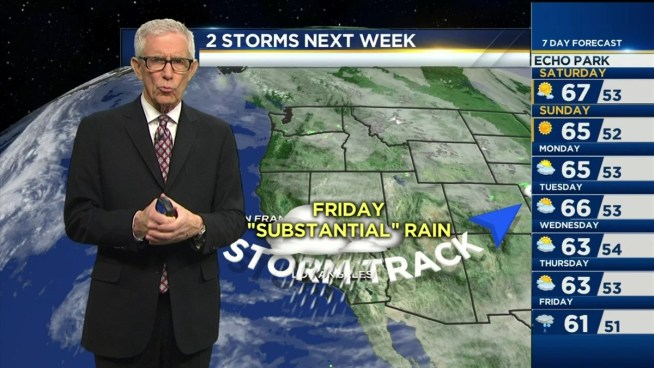 Temperatures will cool through the weekend as clouds roll into SoCal skies. Two storms are expected to bring rain by next week. NBC4's Fritz Coleman has the forecast for Friday, Feb. 21, 2014.
To break the drought, California would need at least 10 inches of rain delivered by what weather experts on Friday described as an "atmospheric river."
While there's no such torrent in the forecast, Southern California soon may have an opportunity to make up its precipitation deficit.
The "jet stream (is) taking aim at Southern California, which it has refused to do all winter," NBC4 forecaster Fritz Coleman said.
The weekend will be dry but considerably cooler than the past few days of unseasonably warm temperatures ushered in by off-shore winds. Next week is when the rain is expected.
The first of two storms will bring showers or light rain on Wednesday, Feb. 26. The second storm on Friday, Feb. 28, is expected to bring substantial rain to the region.
Track the storms' progress and get the latest SoCal weather wherever you are, with NBC4's free weather app. Click here to download.
Because it's been so long since Southern California was last doused, the combination of measurable rain from both storms could bring some difficulties.
Burn areas have potential for mudslides and streets could be especially slick because of months of accumulated oil that has not been washed away.
"We're going to have some issues to deal with but we're so happy to be able to report some rain," Coleman said.