Torrance Man Arrested for Allegedly Exposing Self to Girls
A car description and license plate number linked police to a man suspected of exposing himself to girls walking home from school.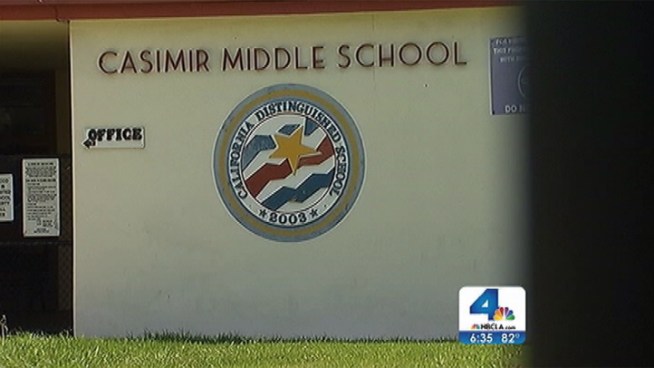 A 54-year-old man was arrested on suspicion of epxosing himself to a group of schoolgirls near Casimir Middle School in Torrance. Reggie Kumar reports from Torrance for NBC4 News at 6 p.m. on Saturday, July 13, 2013.
A 54-year-old Torrance man was arrested for allegedly exposing himself to three girls walking home from a middle school on two separate occasions in 2012.
Eliseo Borrero was taken into custody by Torrance police on Wednesday after investigators tracked down his car when the mother of one of his alleged victims spotted it about a year later, police said.
Detectives said the first incident took place in early 2012 when two pre-teen girls were walking home from Casimir Middle School around 3 p.m. The suspect pulled up alongside the girls in an older model, light-colored car, and called out to them. When the girls looked his way, the suspect exposed himself before leaving the area, police said.
The second incident occurred in March of 2012 when the suspect allegedly exposed himself to a 12-year-old girl who was walking home from the same school. A description of the car the suspect was driving matched the one in the prior incident.
Detectives were able to find the car through a license plate number provided by the mother. They said she saw the car near the school again.
Borrero was linked to the car. He was questioned by police and later arrested.
"He admitted to being involved in these two incidents," said Sgt. Robert Watt of the Torrance Police Department.
Police said Borrero faces child annoyance charges. His bail was set at $40,000.
Detectives said they believe there may be more victims. Anyone with information was asked to call the Torrance Police Department at (310) 618-5571.
More Southern California Stories: