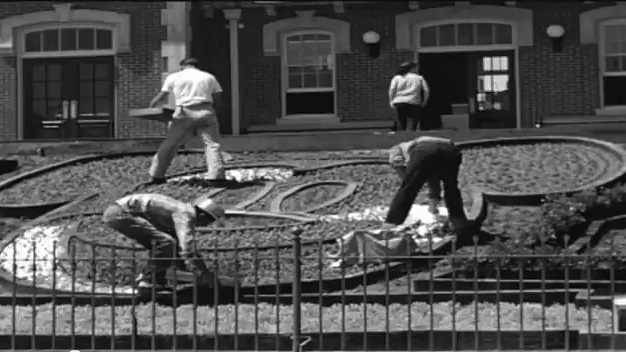 A WELCOME SIGHT: Disneyland is in the details, many fans say, including the thousands and thousands of flowers that make up the Anaheim theme park's impressive landscaping. But the most famous and photographed group of buds at the Magic Kingdom happen to be the first flowers you see: Floral Mickey. We're talking, of course, about the giant Mickey face found just beyond the entrance gates and just below the train station. If you don't spy a couple or family pausing for a photo right there, as millions of people before them have done, well. It hasn't happened yet, as far as we know: It's the one place, save Sleeping Beauty's Castle, where the flow of picture traffic always remains strong.
Fun fact: Violas and alyssum is often used, because it gives the celebrity mouse a distinctive, old-timey black-and-white feel.
Floral Mickey has been around for many years, in a few different forms, depending upon the decade. Disneyland just shared a video looking at how the living artwork has changed over time. Oh, and if you're wondering how many flowers go into Floral Mickey, here's the mega answer: 4,500. If you include the surrounding petals, that's some 7,000 flowers in all. No wonder practically every visitor makes that their first Disneyland photo of the day.
Copyright FREEL - NBC Local Media