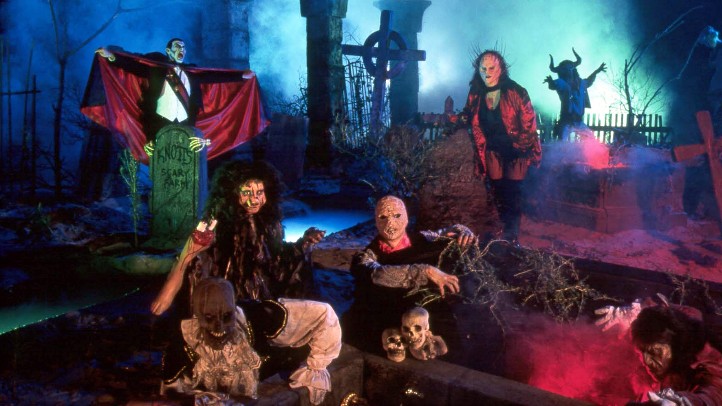 The Halloween extravaganzas that our theme parks stage each and every year? We're charmed. Oh yes, we're screaming, really and truly; some of the ghosts and monsters are truly frightening. Especially when you're standing in line and you turn to see a ghoul breathing into your hair. Why won't your friends ever tell you the ghoul is sneaking up on you? They never, ever do. They stand there and smile suspiciously.
Always.
One of the longest-running of the bunch is Knott's Scary Farm. How longest-running? It first opened in 1973, meaning it is one of the bulwarks of the haunt business. The Berry goes Scary on Friday, Sept. 23, and keeps it creepy through October. Note the attraction is not open each night, but instead focuses on the weekends (although Wednesdays'll get looped in the longer October goes on). Prices run from $34 to $51, depending on the night.
Our favorite bit? Well, beyond seeing ghoulies drag their ghoulie hides all over Knott's old-west-y environs? We like the eats element. There's a Pre-Scare Boo-fest Beastly Feast, if you're so inclined, and yep, it features Mrs. Knott's fried chicken. There's a separate fee, note, to dine, in addition to your Halloween Haunt ticket, but you do get into the attraction early.
If you're curious about the mazes this year, here's a tantalizing name preview of a few: Doll Factory, Delirium, Virus Z, Terror of London, the Corn Stalkers. Chills.
Now. What are our takeaways here? It's fun to say Knott's Scary Farm. Jam is delicious. Ghouls in Old West garb lend a lot of atmosphere. And we're happy to see the theme parks keep on trucking along the holiday haunt express.
Copyright FREEL - NBC Local Media