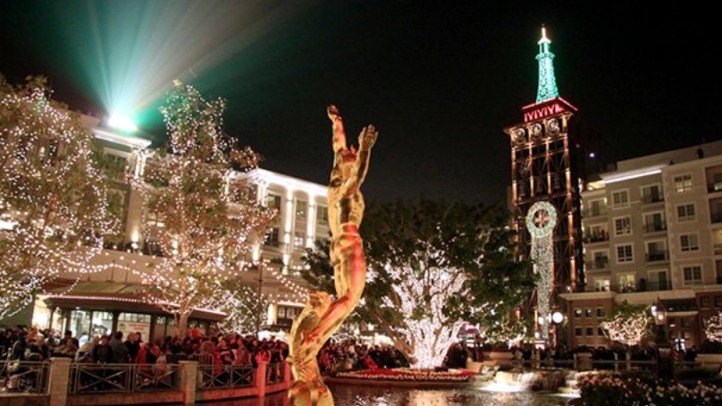 Is this the year you've promised the family you're going to go extra big, finally, in the Christmas tree department? Really extra big? Like a ceiling pusher?
We applaud your bravado and we recommend you look no further than the Americana at Brand for inspiration and ideas. Of course, if you do end up falling in love with a tree the size of the Americana's 2011 tree, you'll need a living room, that's, ohhh, well north of a hundred feet tall. The Glendale shopping center's big fir is indeed passing that marker and it is doing so while bedecked in 10,000 ornaments.
To get one of the first look-sees at this biggin' get to the Americana on Thursday, Nov. 17; the center will be lighting the tree and leaving no hall undecked and no carol unsung. And as with all major Southern California tree lightings, there are other goodies in store.
Like? Cirque du Santa will get one spotlight (if the name makes you think there may be some razzmatazzy elves strutting their stuff, you'd be correct). Santa will be in the house, or, er, the outdoors. And the famous faux snow will fall. Plus? A traditional fireworks show.
So good luck with getting your own 100-footer home. Remember to lift with your knees and always, always use the buddy system.
Follow NBCLA for the latest LA news, events and entertainment: Twitter: @NBCLA // Facebook: NBCLA
Copyright FREEL - NBC Local Media