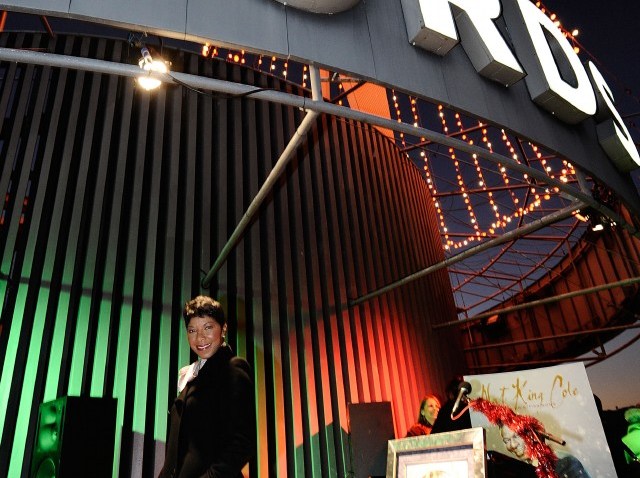 Can merely typing the words "The Christmas Song" followed by the name Nat King Cole cause a person to well up, just a little?
We just found out. That carol remains a standard of the season for good reason. It's just incredibly moving and beautifully realized, and Mr. Cole will forever be its most perfect translator, in our opinion (props to Mr. Mel Torme's version, too).
Nat King Cole's daughter, a famous balladeer in her own right, also does a lovely version of the carol (and the duet with her father, composed years after his death, is especially heartfelt). So it seemed fitting, and festive, that Natalie Cole would stop by Capitol Records to turn on its rooftop Christmas tree.
The bulb-y cone blinked on on Thursday, November 19th, and will be a cheery sight on the Hollywood skyscape through the holidays. We know, there are many famous holiday displays dotting the globe, but is our own Capitol Records tree not among the top five? We vote yes.
Jack Frost may not nip at our noses in Los Angeles, nor chestnuts roast on open fires, but we've got one rocking tree.
Copyright FREEL - NBC Local Media