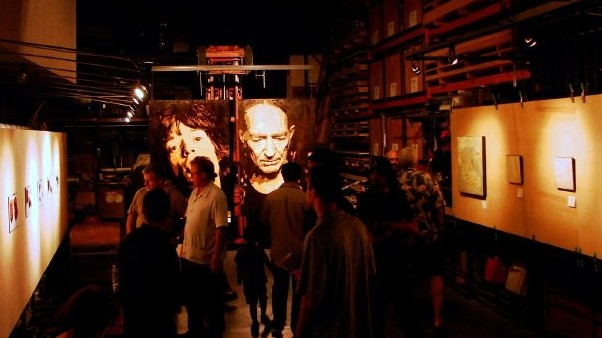 Normally we don't like to see one thing hog the spotlight. There are plenty of good venues and things to do in our megalopolis, and any place that fills up our brain space gets the side-eye from us.
But the LA River? That can hog away, we say. Splash it across headlines every week. We want to see our epic, and epically jested over, through-way get the love and attention it deserves. (The fact that it is starting to go recreational pleases us, and many, to no end.)
Now Frogtown, that art-nice community nestled up against the river, gets its own happy headline. That's because the time is nigh for the neighborhood's annual artwalk. The artwalking will be afoot on Saturday, Sept. 24.
It's self-guided and free. We like all of those words put together in a row.
It will also offer lots of eclectic to-dos, as is fitting the properly eclectic area. Here are some things from the run-down: Hula Hoops at at 2041 Blake Avenue, Tacos Kevin, and "name dropping" interactive event at Blake Lofts. Sign us up and then tell us what we're signing up for! Yessss.
Hours are 4 p.m. to 10 p.m., so there'll be a lovely eveningness to the proceedings. If you see the river, tell it "hey" for us. Now it seems to be getting all famous again, for many of the right reasons. More love directed its way can't hurt.
Copyright FREEL - NBC Local Media