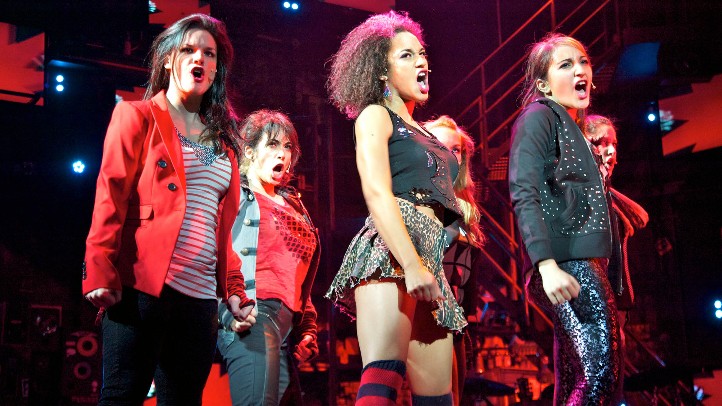 Not many modern rock anthems or punk albums boast the goods to be turned into a full-on stage musical. Sure, the ideas within the tune might fuel a few showstoppers and an interesting relationship. But successful musicals are built on many moving parts, meaning that when a concept originates in a concept album it has be full-flowered and ready to zoom.
Yep, The Who's "Tommy" comes to mind in this field and so does the newest, most notable entry into the genre: Green Day's "American Idiot." The record was born back in 2004 and, lo and behold, it went Broadway about a half decade later. ("Tommy," as potent and pinball-wizard-y as it is, took a bit longer from phonograph to footlights.)
Now the rockified, suburb-questioning musical has pulled up to the Ahmanson. Or, let's be honest: It slid on its knees, across the stage, while burning up the strings on a solo. Opening date? Wednesday, March 14.
If you know the album you'll know the themes of the show: the questions of youth, frustrated discontent, and love. Billie Joe Armstrong of Green Day and director Michael Mayer are the book-penners on the mega project.
A few other things of note. Several of the Broadway stars will be on stage with fists raised for the LA run, if you're bummed you missed the 2010 New York run of the show. And the Center Theatre Group is "establishing a special daily lottery" for tickets for the duration of the show; if you win you get a chance to buy a $30 seat in the first two rows of the orchestra.
And this charms: CTG also has a "Loser's Lottery" going; people who aren't nabbing those orchestra seats will have a chance at seeing the final Saturday night of "American Idiot" on April 21. The spirit of the Loser's Lottery certainly feels in line with the disaffected mojo of the musical itself. So bravo, Center Theatre Group.
The musical will split on Sunday, April 22.
Follow NBCLA for the latest LA news, events and entertainment: Twitter: @NBCLA // Facebook: NBCLA
Copyright FREEL - NBC Local Media