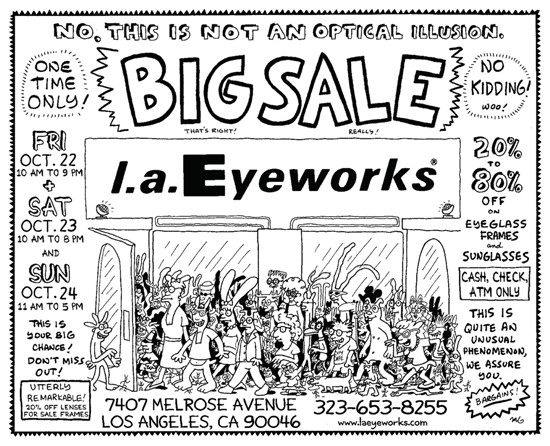 The headline of the l.a.Eyeworks sale over the Oct.22-24 weekend was "record attendance," meaning thousands -- in the neck of some 2,000 people, actually -- turned out to shop for frames and other necessities and the occasional frippery of an ocular nature.
This pleases. Glasses look good on everyone. We're still hoping l.a.Eyeworks will release a whole fancy-pants pince-nez line, but we're patient.
The other story, however, was that the sale ad drawn by a certain Matt Groening made a delightful return appearance. Can you name any other sale ads for, well, anything, drawn by a famous artist? Nowadays? We know it probably happens, but our question is this: Does it happen with such hilarity?
l.a.Eyeworks says Mr. Groening, a glasses-wearer himself, if you've seen any behind-the-scenes special for "The Simpsons," is a longtime customer. The artist and animation icon drew the "Life in Hell"-y ad back in the '80s. The shop is still permitted to use it every time the annual sale rolls around, and oh, they do, as they should.
Dare we say this is all pretty LA? We dare. Also pretty LA: The fact that l.a.Eyeworks was rocking the lowercase long before it became chic. Food for thought, other businesses considering going lowercase. Food for thought.
Copyright FREEL - NBC Local Media