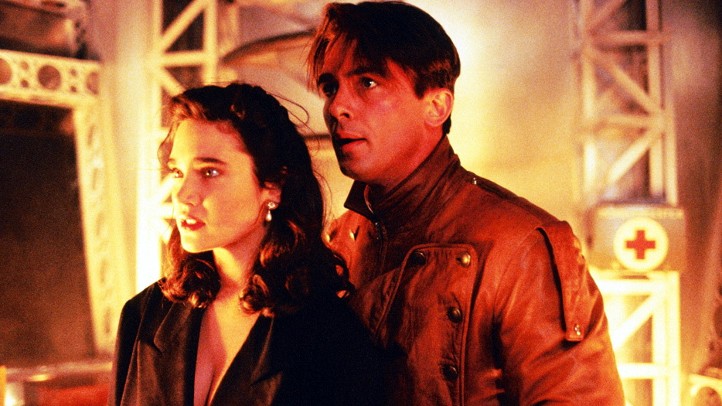 Many movies made in the 1940s took a special shine to the town they were made in. Hi, "Double Indemnity." Hi, "The Big Sleep." Hi, most of the LA-loving noir genre.
But few films have captured the city of that era with the affection of "The Rocketeer." Yes, it was made decades later -- 1991 -- and no, it isn't a noir. More of an action-adventure-comedy-romance-Jennifer-Connolly-with-big-flowers-in-her-hair-oir. We love that category.
We also love Griffith Observatory's big cameo in the film, and the Valley's citrus groves, and the movie's Ambassador Hotel-directed affections. And we love that a big 20th birthday party is ahead for the film. It's happening at the El Capitan on Tuesday, June 21.
The Rocketeer himself is set to show. Do you need to read on, now that you know Bill Campbell will be in the house? Probably not. But look who else will be Q&Aing: Rick Baker. Make-up artist Rick Baker. Oh yeah. And Danny Bilson and Paul de Meo, the screenwriters. And comic smartie William Stout.
Oh, and Kevin Smith is master-of-ceremonies-ing. That Kevin Smith.
Disney fan club D23 is presenting, and a ticket is $50. What else do you get for that, besides the movie and a Q&A? A walk over to the nearby Max Factor Museum, to see props and outfits from the film.
The theater told us tickets are still available, but you'll want to make a decision soon because fans are calling. Should we also add that Terry O'Quinn -- Locke from "Lost," of course -- plays Howard Hughes in the film? Does that make your teeth hurt from joy? Can you teeth hurt from joy? Now, if only Mr. O'Qunn could make a surprise cameo at the night. Jennifer Connolly, too. And you, too, Timothy Dalton. Please?
Griffith Observatory, you can stay up on the hill. But we know you'd attend if you could.
Copyright FREEL - NBC Local Media