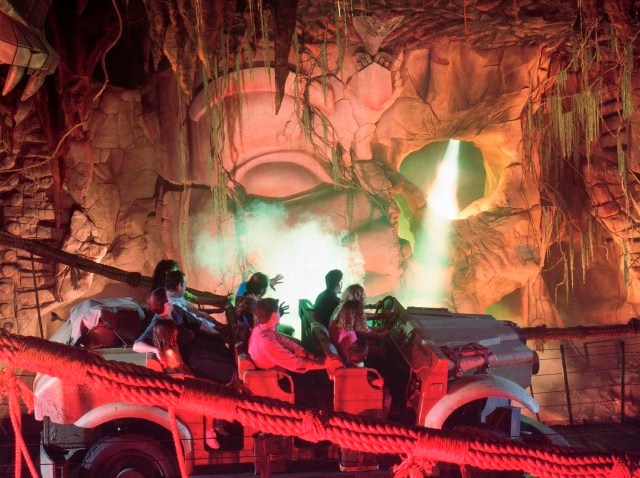 We used the word "sesquidecade" in the title of this post because we wanted to act all smart and uppity, given that Indiana Jones is a doctor and a man of letters.
But Indy is also an adventurer, given to plain talk, so we'll go simpler and say that the Indiana Jones Adventure at Disneyland turns 15 on March 3rd, 2010.
You like that ride? We love that ride. And we love getting the driver's seat best, which happens sometimes. Driver's seat or not, people are obsessed: Indiana Jones has proven to be a perennial favorite at the park, hosting some 95 million riders since its '95 opening.
That's easy to remember.
As are your favorite parts. The little darts of air blowing out of the wall. The mice shadows. Should we put spoiler alert? Okay, spoiler alert. But you've been on the ride, we're betting, so you know everything by heart.
Two more things regarding the Temple of the Forbidden Eye. We like that it was an ultra-successful uniting of two major movie media talents -- Lucasfilm and Disney. Note to other major movie media talents: partnerships can and do turn into an attraction 95 million people will eventually ride.
And the other thing, for our fellow Disneyland history buffs. Indiana Jones Adventure was built on the former Eeyore parking lot. There's an Eeyore sign hidden in the ride to commemorate the fact. Do you want to look for it during your next visit, or do you want to know now?
Copyright FREEL - NBC Local Media