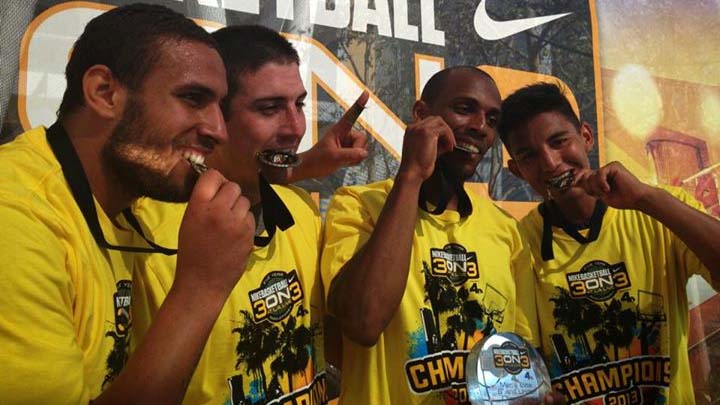 UPDATE, Monday, Aug. 12, 2013: For the second time in three years, the Driveway Legends won top spot at the Nike Basketball 3ON3 Tournament, presented by NBC4.

Menifee natives and longtime friends Adam Alfaro, Mycheal Perry, Garrett Caldwell and Drew Madrigal beat out dozens of other teams vying to win what has become Nike's most well-attended 3ON3 basketball tournament.

The Driveway Legends also won the tournament in 2011, and are working to raise money to play in a tournament in Washington state.
---
Basketball players of all ages and skill levels are invited to register for the fifth annual Nike Basketball 3ON3 Tournament Presented by NBC4 Southern California, set to return to L.A. LIVE and the streets of downtown Los Angeles from Friday, August 9-Sunday, August 11, 2013.
The Tournament has grown from 500 teams in its inaugural year to more than 1,500 teams, 4,500 players and 25,000 spectators, making it one of the premier three on three street basketball tournaments in the United States. The Tournament will host approximately 100 outdoor basketball courts and an interactive Fan Fest to accommodate the thousands of athletes, guests and families participating and attending this year's event.
For the 2nd consecutive year, the Josh Hutcherson Celebrity Basketball Game benefitting Straight But Not Narrow (SBNN), an ally organization that prepares and trains young adults on how to become allies of their LGBTQ peers, will kick off the Tournament on Friday, August 9. Hutcherson will be joined by many of his celebrity friends for a fun and exciting exhibition game in front of hundreds of fans. Individual tickets and VIP packages are available for purchase now, with all net proceeds benefiting SBNN.
The Nike Basketball 3ON3 presented by NBC4 Fan Fest is free and open to the public. Complete information about tickets, registration, eligibility, rules and bracketing can be found at Nike3on3.com.