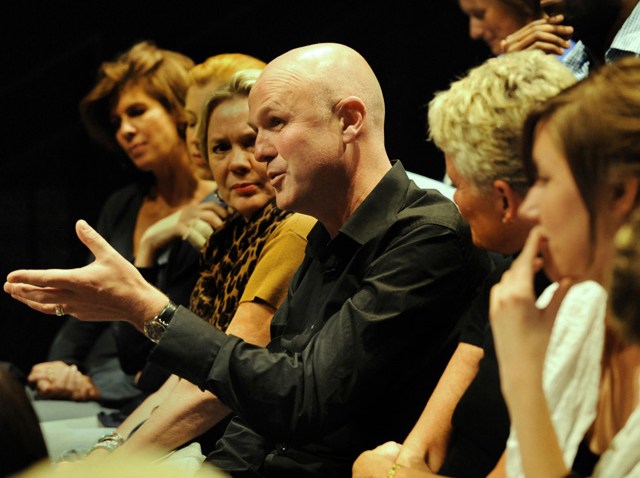 When a theatre encourages the audience to avoid researching a play, our interest is immediately piqued.
"This one is for the fearless theatregoer. Don't ask. Don't Google. Just be there," reads the summary on the Kirk Douglas Theatre website.
Interest piqued.
"The Author," which officially opens Thursday at the Culver City theatre, is fresh off its UK tour. How do we know that? We Googled it. Forgive us, Kirk Douglas Theatre. "Don't Google" is advice we can't follow.
Without really giving away any spoilers, a review on the Guardian's website (yes, also found via Google), is only taking our piqued interest to new peaks:
It has provoked walkouts, arguments, and a near-riotous atmosphere in the theatre. No wonder the conversations about Tim Crouch's Edinburgh fringe drama are so intense
Organizers at the Kirk Douglas Theatre are already preparing for some walkouts of their own. From the show's website: "...patrons (who) leave the theatre during the performance, for any reason, will NOT BE ALLOWED TO RE-ENTER."
Caps lock always means business. So don't even try to walkout and get back in.
In addition to adult language and potentially disturbing imagery, and themes of taboo sex and violence, the play may be a little too close for comfort for some people. The actors are seated in the audience. There is no stage. "(The audience's) presence is acknowledged. They are seen, spoken to, cared for and treated to light-shows, music and chocolates," according to the show's description.
Basically, there's no fourth wall to keep you safe from the intensity of the show.
You've been warned.
The LA show runs for 13 performances through Feb. 27. Preview performances were scheduled for Tuesday and Wednesday. Tickets are $25 and are available by phone at 213-628-2772, online at CenterTheatreGroup.org, in person at the Ahmanson Theatre box office, or two hours prior to performances at the Kirk Douglas Theatre box office.
The Kirk Douglas Theatre is located at 9820 Washington Blvd. in Culver City.