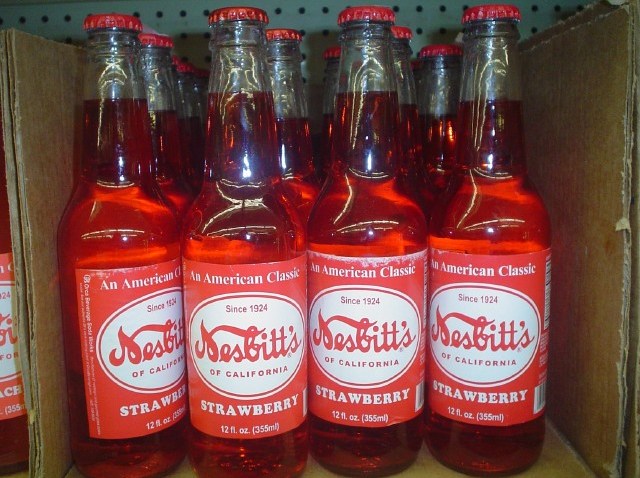 Nesbitt's of California was born in Los Angeles, decades and decades ago, and so it makes sense that orange was the flavor that shot the company to the top of soda-pop shelves everywhere. Because LA and citrus are old friends and so it shall ever be.
Oh, orange soda. It definitely goes in the pantheon of distinctive flavors. Especially on a hot day, and your hands get sticky from the bottle, and then you smell like a giant human orange soda all day. One of life's little gifts.
Another of life's little gifts: Finding a tasty beverage that isn't expensive and is kind of hard to locate and is in your own backyard, and if you live in Highland Park, it really is nearly your backyard. We're talking about Nesbitt's strawberry soda. And we like that Galco's Soda Pop Stop carries it.
It's $1.85 a bottle. The strawberry scent is so bright it nearly pinches the tip of your nose. And, as always, John Nese, that affable dean of soft-drinkery, will be more than happy to talk about Nesbitt's long history with you as you purchase.
We mentioned the orange and the strawberry, but Nesbitt's is also available in peach. We could stand to get peach-sticky hands for an afternoon. Have you smelled like a big peach lately? If you haven't, that can be corrected.
Copyright FREEL - NBC Local Media